<

July 28, 2006 Sheridan, Wyoming to Reedpoint, Montana

Well, we've been in Sheridan quite a while, and as is bound to happen, plans have changed.

While Andy had originally planned on coming with us to California to pick up his new rig, he has now decided to go south. From there, he will either have the new rig driven to him or catch a plane and pick her up. If he decides to pick her up personally, he'll drive Skylark (the name he has chosen for his new 26.5MB) south so he can make the move from Gertie somewhere in the southwest. This plan will save him a long drive and be ever so much easier on Gertie.

Since he won't be accompanying us to California, (his kidney stones seem to finally be under control), we have decided to leave Sheridan a bit earlier than planned.

Our plan now is to go and visit my nephew in Florence, a tiny town about 20 miles south of Missoula. Then we'll head on over to Portland to have our tow set up inspected by the folks at Roadmaster, and then down to AM Solar in Eugene for the installation of our new Prosine 2.0 Inverter/Charger and two more solar panels (for a total of 400 watts, WOO HOO). THEN, our plan is to go home and get our taxes done. With that business taken care of, we'll go down to the Lazy Daze Factory for our new awning and then over to Albuquerque for the Balloon Fiesta in early October, Whew!

So Phase One was to set off for Missoula. We headed out on Thursday morning with just a wisp of a plan. After about an hour, we decided to head for Reedpoint, Montana where there is a Passport America Park.

This fit right into our plans as we wanted to stop at the Costco in Billings, but knew that we wanted to go a bit farther for the day. Looking at the map, Billings wasn't far enough, but Bozeman was too far, so Reedpoint fit the bill perfectly!

As we were driving along, we were once again struck by the beauty of Wyoming, the ever changing landscapes continue to feed our eyes and souls. Those of you who read this site may get tired of me talking about how wonderful we find just about everywhere we go, but the truth is, I am continually amazed and thrilled.

As we drove along, we saw that we were approaching the Little Bighorn Battlefield . This is a spot we were interested in visiting, so we pulled off the Interstate. A bit before the Park, we pulled off for lunch, and I noticed that the culverts by the road were full of water, yet clear as a bell. Well, of course I had to stop and take a picture. While this shot doesn't do the reality of the place justice, I liked the way you could see the grass through the water and also the reflection of the sky in the water. This intrigued me as I would have expected still water to be quite murky, but this was so clear!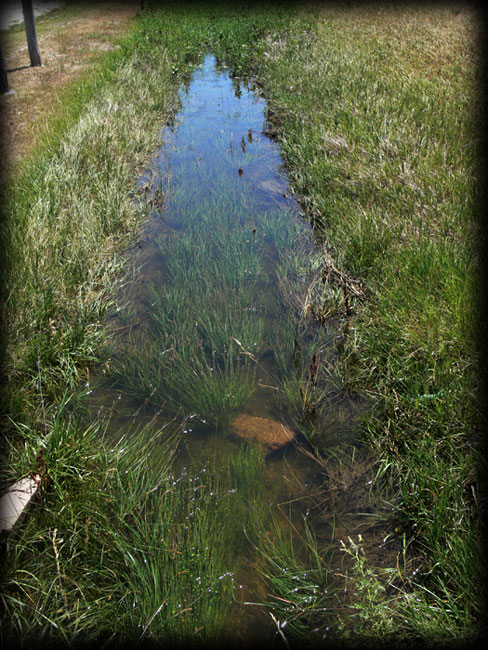 As we pulled into the Battlefield proper, we were amazed at the number of vehicles in the park, why you'd think it was high season or something! As we drove around, we made the decision that we just couldn't enjoy the experience with such a crowd. As we definitely plan on visiting this area again (but not in the middle of summer!), we thought it would be best to pass on this for now.
So we continued on down the road to Reedpoint, for which we were totally unprepared! It turns out that this is a tiny (population 96) town, but what a gem. And to add to its' allure, it's the Sheep Drive Capitol of the World!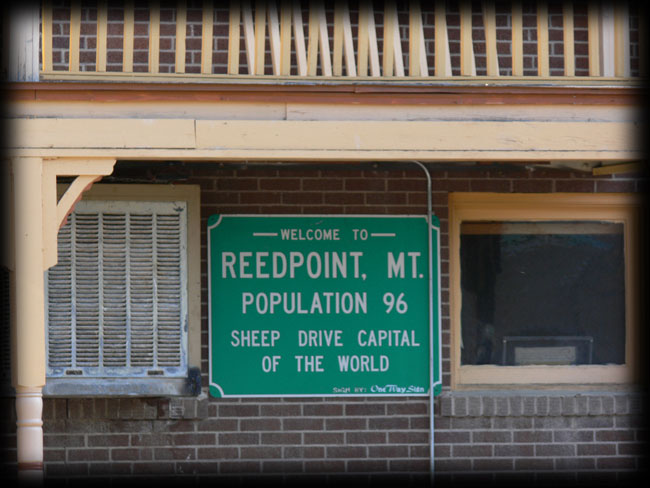 We were pretty tired when we pulled in so we damped it down and stayed in for the evening, but the next morning was an entirely different story.
I woke up about 5:00 Am and saw that the sun was just coming up, so I quickly donned my clothes, grabbed the camera and left Terry sound asleep in the rig. Immediately across from our park was this lovely old building that just spoke to me of the frontier we had been traveling through. With the horns and the flag, this kind of reminded me of a frontier Post Office!.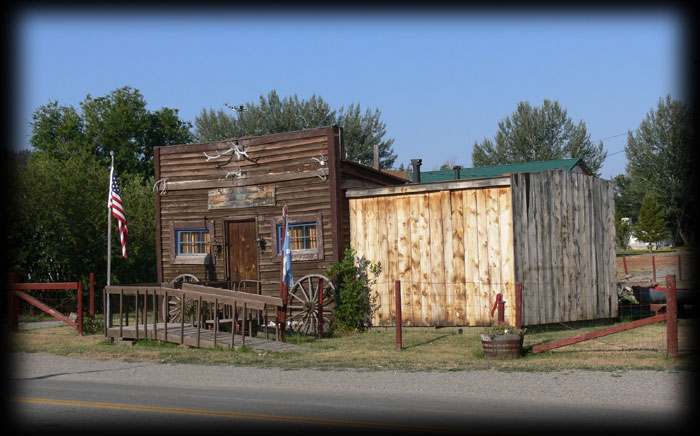 As I walked through the center of town (literally down the middle of the road, the town is just three blocks long), there were signs of sheep everywhere (buy no actual sheep, go figure!). One of the things that drew my attention were the town garbage cans. Are these adorable or what???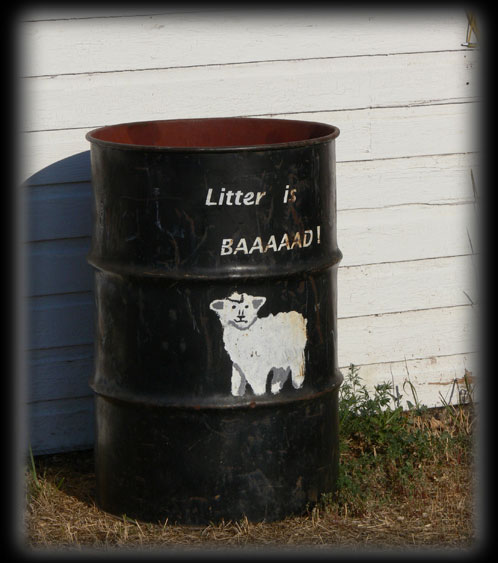 A bit further down the street, I noticed that about half the buildings in town were for sale. This building, while quite old, had a GREAT paint scheme, and while it it could certainly use some repair, I found it incredibly charming. This photo was taken from across the street.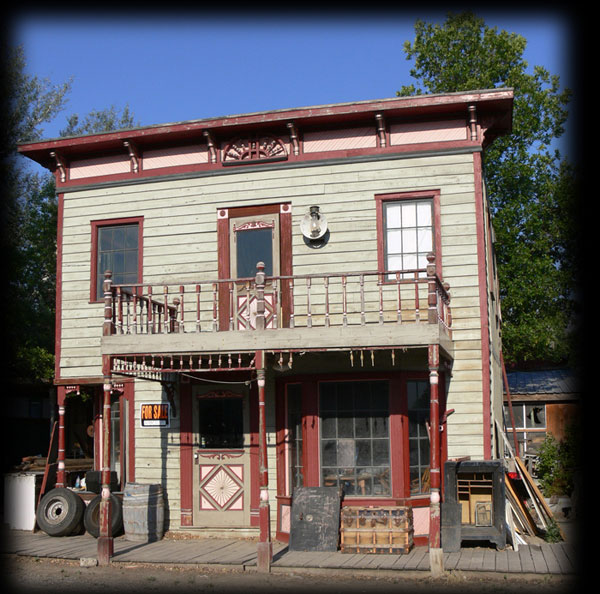 Apparently, this building once housed an Antique Store. The sidewalk in front had a great collection of old pieces, including this safe door and the trunk sitting next to it.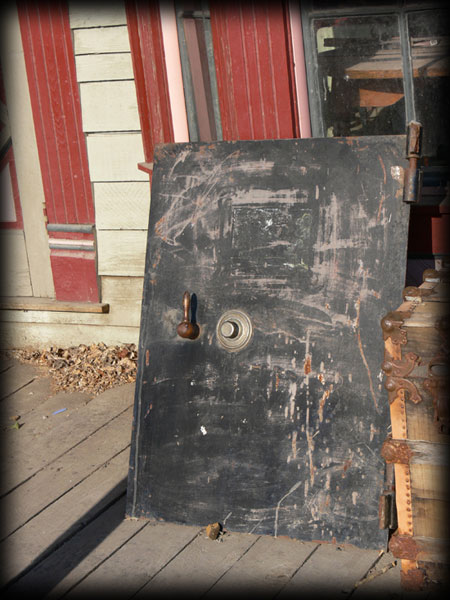 And isn't this door a great example of how they used to build and decorate storefronts? The entire place was for sale for just $23,000.00!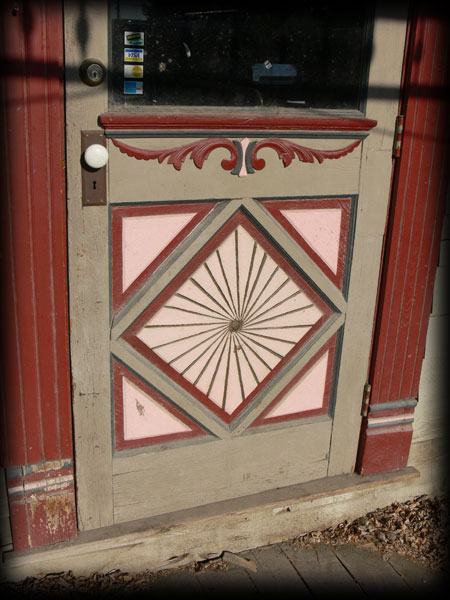 Next door was the Reedpoint State Bank, erected in 1907. We have found a great number of brick buildings in both Wyoming and Montana. While they all have tons of charm, this old beauty was truly exceptional. I really liked the designs they made with the bricks, and the oak door was a really fine piece (Craftsman, I believe). While I'm not sure if the iron fillagree is original or a more recent addition, it certainly added to the charm.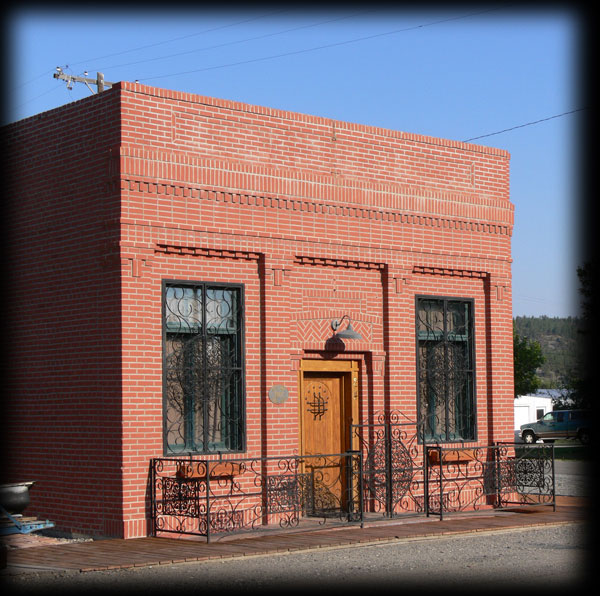 Across the street is the old, still operating Montana Hotel. I was enthralled by these doors, the contradicting Open/Closed signs and the reflections in the glass.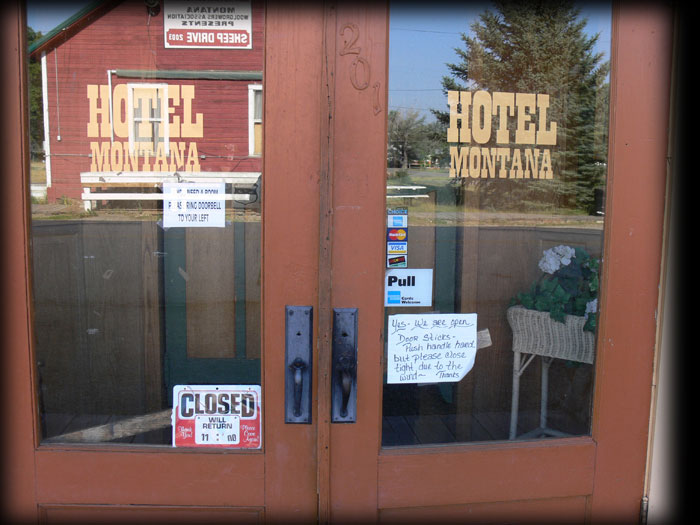 Around the corner was this rooming house. While I believe it may have originally been part of the Hotel, it seems to now be a separate establishment. Again, I just loved the architectural details.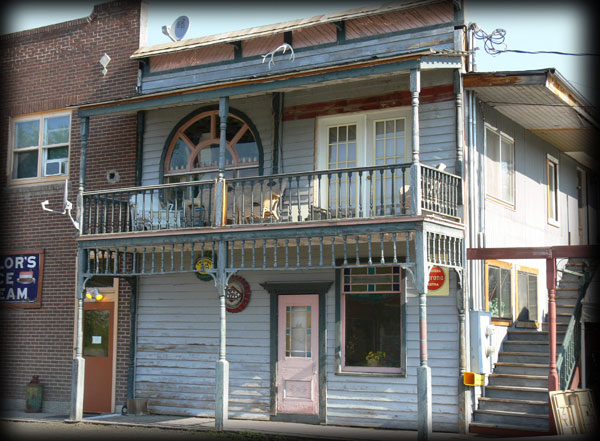 This is a close up of the door, isn't it lovely?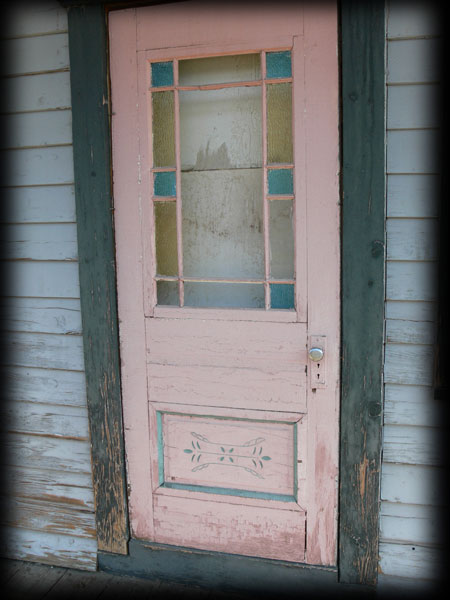 From down the street, this is a different view of the boarding house.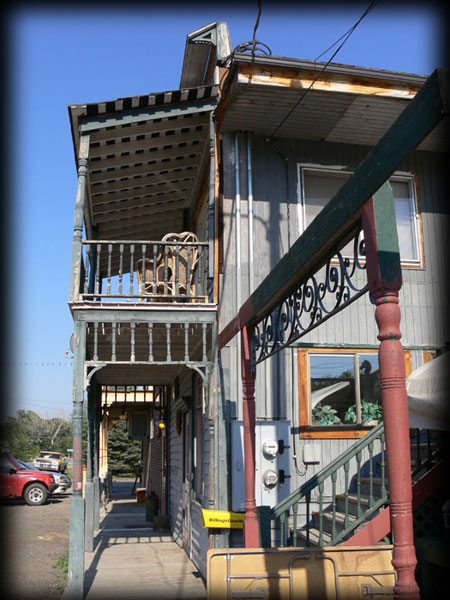 Then, as I was walking down the street, these two became aware of me and proceeded to wake up the whole neighborhood. I only include this photo because these two had so much personality!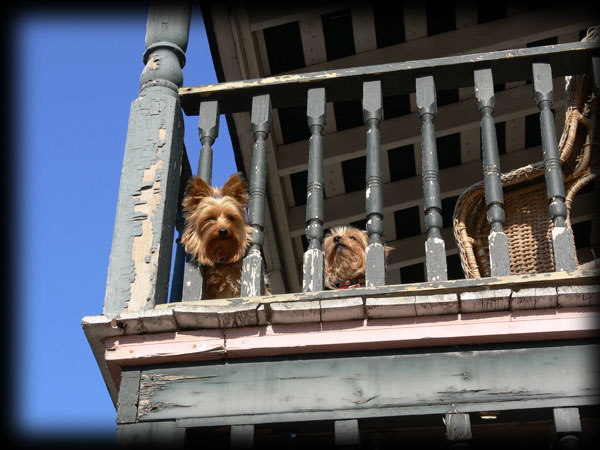 In the back of the rooming house is this two story outhouse!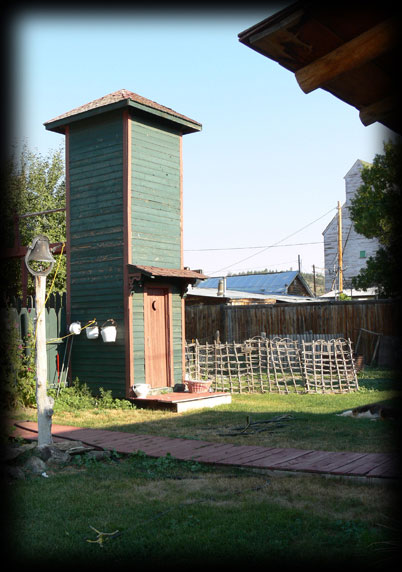 As I proceeded down Main Street, it was so tranquil and lovely, I decided to sit for while.
After about twenty minutes, this fellow came up and dropped a pebble at my feet. At first I kind of ignored him, but he was so patient, I decided to see if he wanted to play. Sure enough, I would throw this tiny rock, and no matter where I threw it, he brought back the same rock every time (note that the street is FULL of rocks!). This went on for quite a while, and when he saw I didn't want to play any more, he simply laid down at my feet.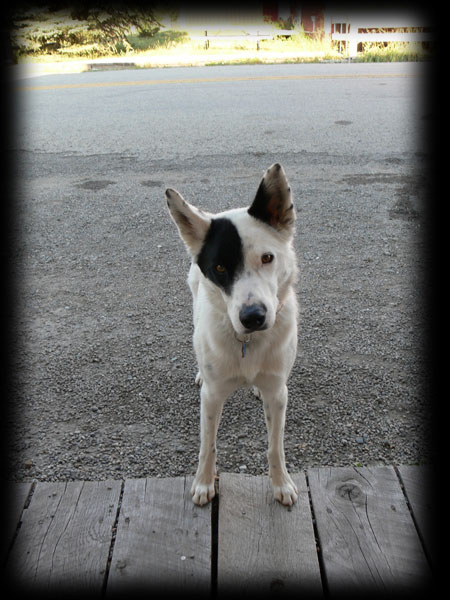 He followed me around town for about thirty minutes, then suddenly, he dropped his stone and picked up this empty milk carton. He carried it with us for a while, then trotted off down the street.
He was a charming and friendly companion, a great Ambassador for the town of Reedpoint.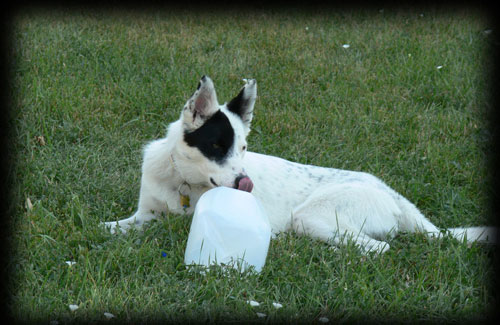 The next few pictures are just details of the town that I wanted to remember.
I really enjoyed the shape and colors of this mailbox.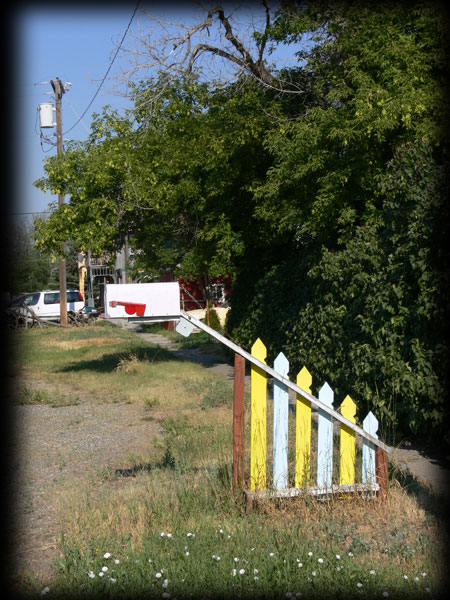 This is an old stove door that someone had mounted (upside down!) on their fence.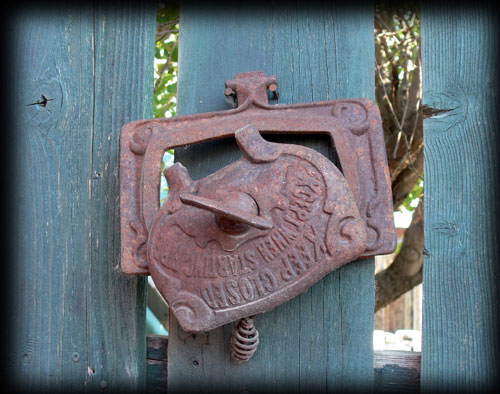 There was something about this door that appealed to me.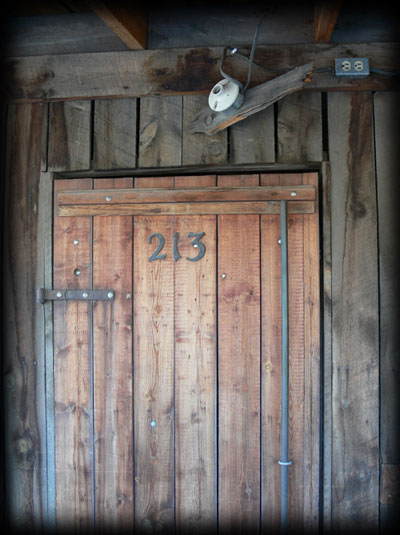 A shot looking up at the Hotel balcony.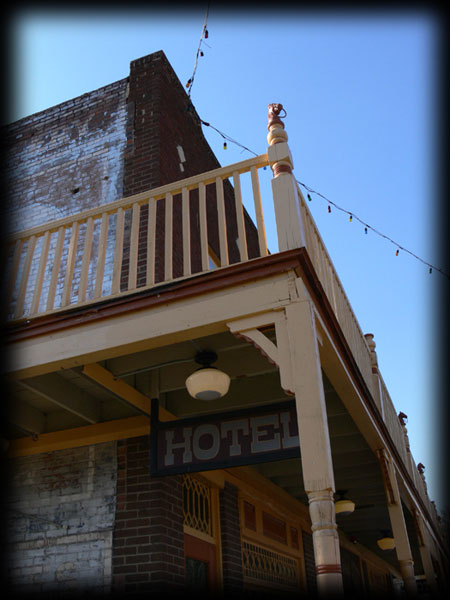 A long shot of the Hotel Montana.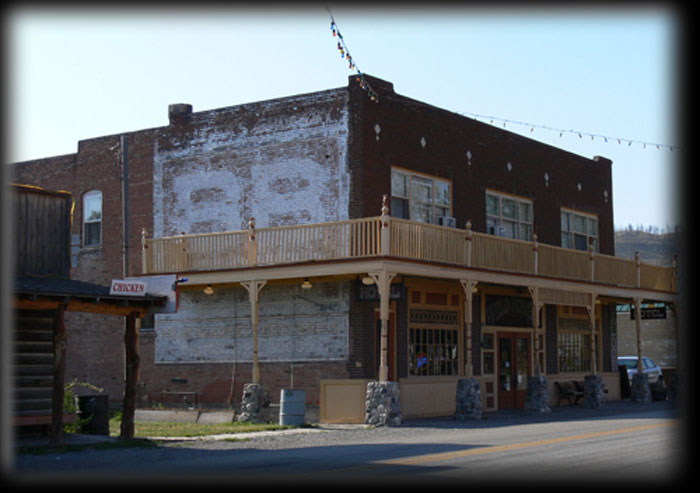 And finally, as I approached the end of the street, there was a set of railroad tracks, as there seems to be in every small town we travel through.
By the sides of the tracks were a number of buildings, i believe they are silos or grain bins. The light was just perfect,so I ask you to bear with me, because I just couldn't pick which photos to use, so I've included them all!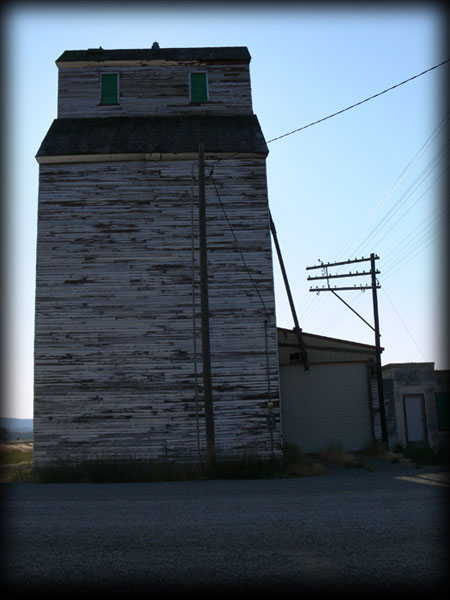 The same building from another side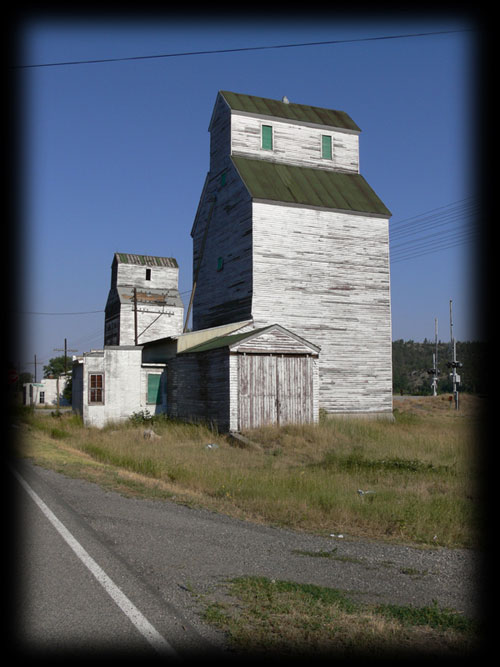 The Occident Flour building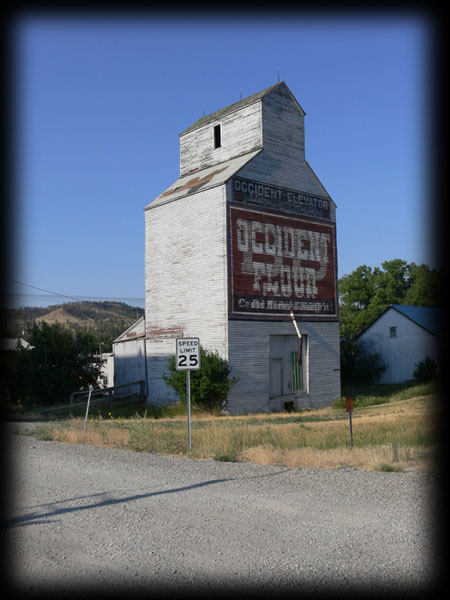 I just liked this shot.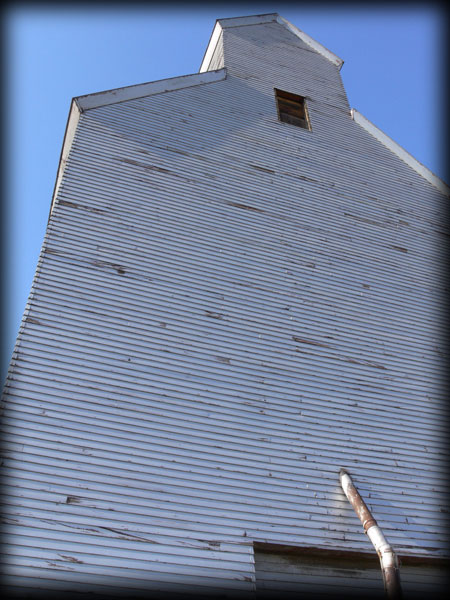 A long shot of two of the silos.
From the looks of the roof on the far building, this one probably is no longer in use.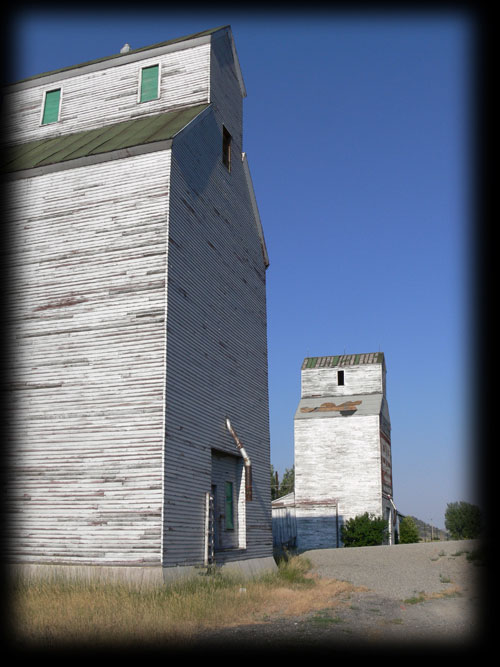 And a final shot of the Occident Flour building.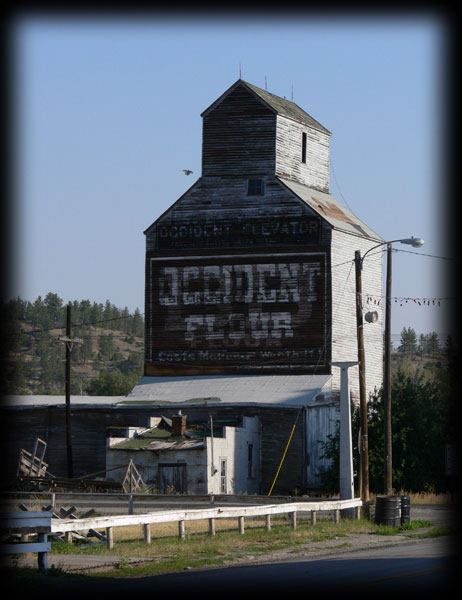 So this concludes my tour of downtown Reedpoint. It sits right between Billings and Bozeman, and if you're ever in the area, I suggest you stop and give it a look. It won't take you long, but it's a great trip.
As ever, Life is good.
Back to the Travel Table of Contents

This Website was created on a Mac by Kate Klein