<
July 24, 2006 Don King Museum, Sheridan, Wyoming
One of the places we wanted to see in Sheridan was Don King's Western Museum. We'd read that it was a great place to visit, but we were in no way prepared for what we actually got to see. As a note, I just wanted to tell you that this entry is pretty text scarce and graphics heavy. That's because I was so impressed with this Museum that I wanted to share, but I don't have a lot of information on most of the photos.
As you're walking down Main Street, looking in the windows, you come up on a Western Store (one of many in Sheridan). . There's a sign that says something like "Come inside and see the Museum". So of course, we went inside. The store is very nice, but similar to the many others in downtown Sheridan. The sign says the museum is in the back, so we go to the back.
At the back of the store, there's another sign that says the Museum is out the back door and across the alley, so away we go. And here we enter a store unlike any I've ever seen! It's a REAL Western Store. Inside is all kinds of gear, and more rope than I've ever seen in one place!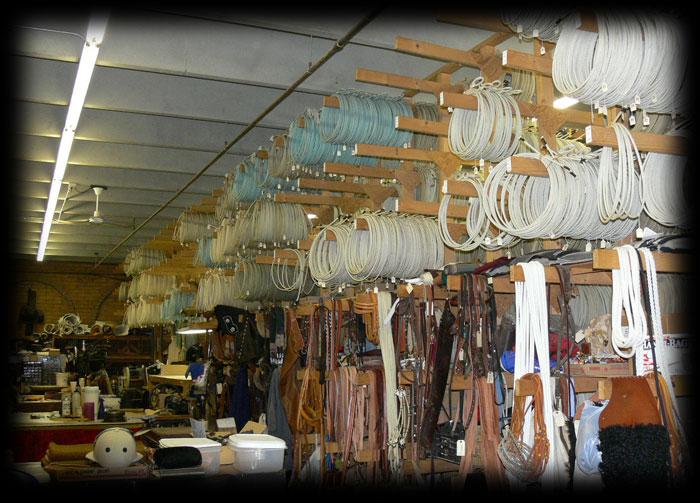 There's also saddles, tack and assorted other things whose use I can only guess. In one corner, we found this piece (whose use I don't know) but it's made of horse hair, and I thought it was quite beautiful.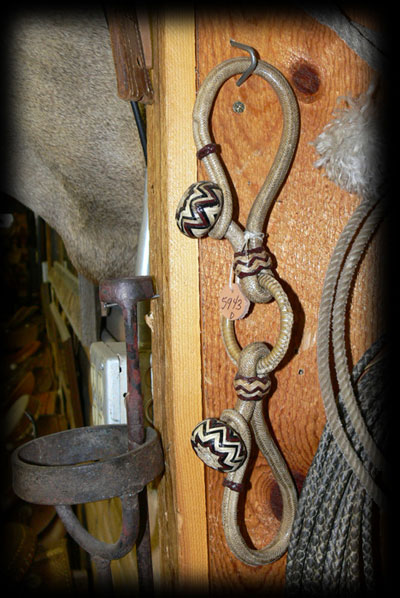 And then, off to one side, we saw the entrance to the Museum.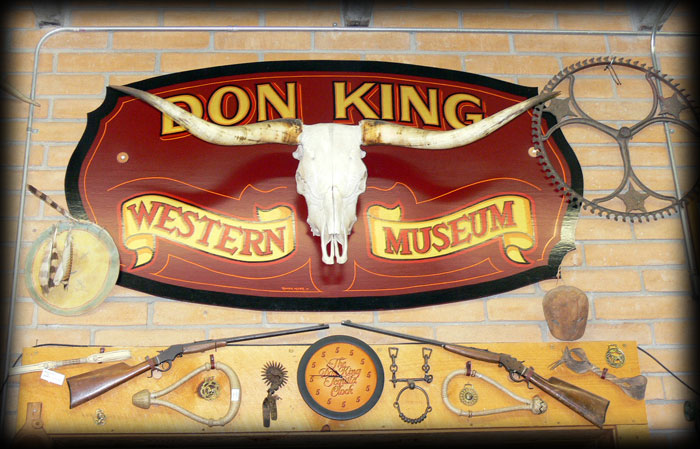 And I have to tell you, what a Museum this is!
Don King is a Master Leather Worker and one of the nation's Premiere Saddlemakers. His skill at his craft has made his name known world wide; however what many don't know is that this Gentleman is also a collector! Now being a pretty serious collector myself (that is, in my previous, pre-living in a motorhome life) I can recognize someone with a passion, and this fellow certainly qualifies!
The brochure for the Museum states that there are hundreds of saddles in the Museum, and by any standards, this is one impressive collection. The picture I've included is just one room, and there area lot of rooms in this Museum. The collection includes many saddles that Mr. King has made and collected, as well as many that have been donated by various individuals. This spot is a true education, showcasing all kinds of exquisite leather work.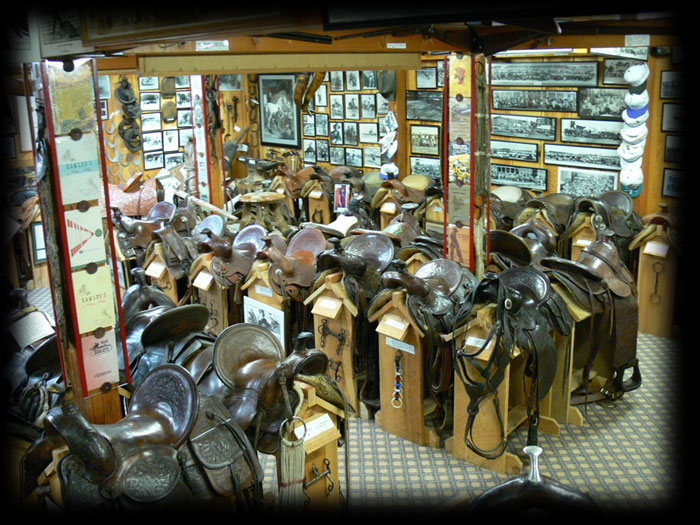 But lest you think that this is just a leather/saddle Museum, let me assure you that this great place is so much more!
This Museum boasts an incredible treasure trove of Western relics as well as an extensive collection of Native American artifacts. One of the first things we noticed was a real, true original covered wagon, or as I like to think about it, one of the very first non-motored Recreational Vehicles! While you have to look pretty close, there is a full sized covered wagon in this shot!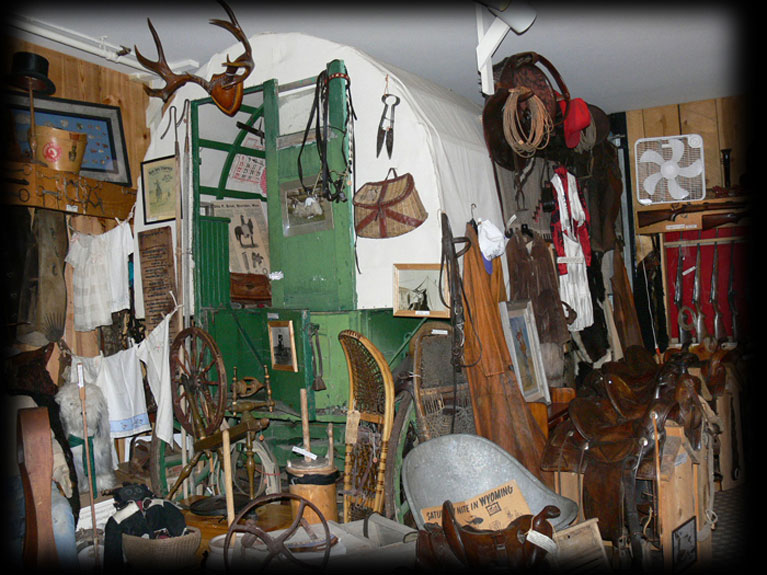 This next shot is a poorly done composite of the inside of the wagon. The two photos didn't quite match up, but I wanted to include it for those of you who complain that your rig should be just a bit bigger, Count your Blessings! And looking closely, you'll notice that this rig is heated with a genuine cast iron wood stove! Talk about over weight!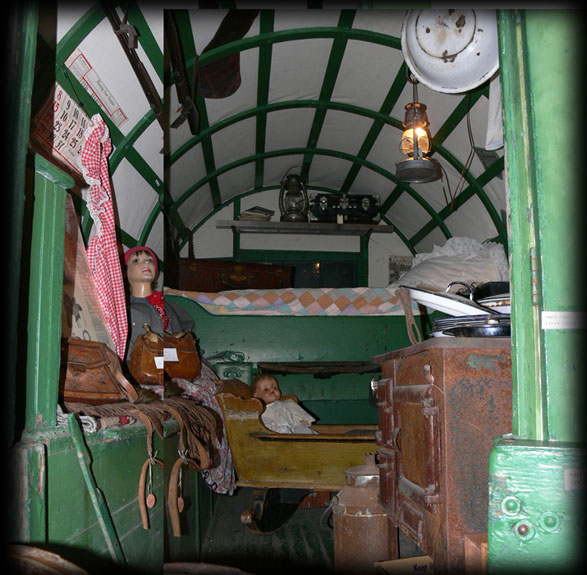 I was particularly drawn to a section dedicated to the Western Cowgirl. This sign was dimensional, and I loved both the sculpting of the cowgirl on the horse, as well as the bright colors of the graphics.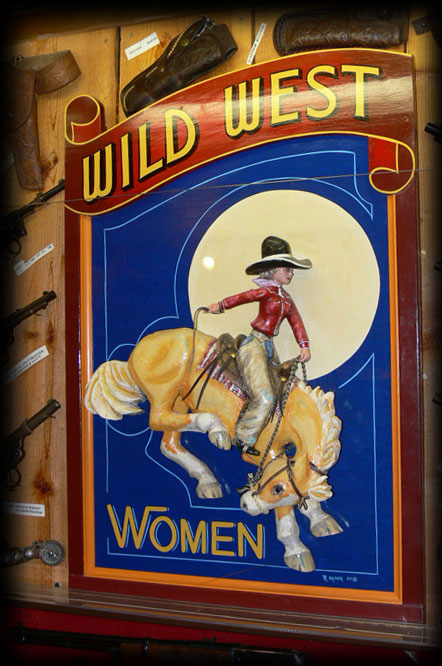 Is this a snappy outfit or what? It was worn by the Queen of some long ago rodeo.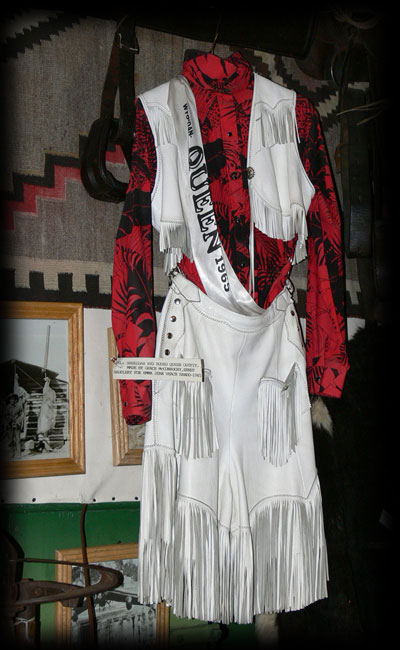 Scattered around the walls of the Museum are cases crammed full of western memorabilia. I think these chaps are great, but I bet they're really heavy.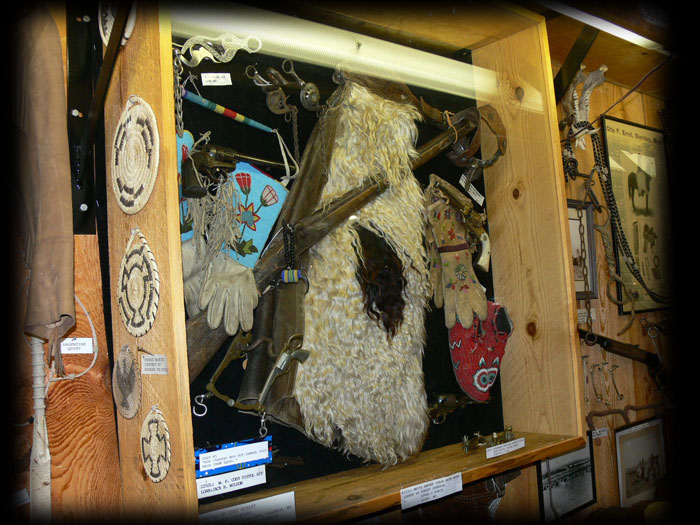 I've done a bit of beadwork, and whenever I've seen Indian beadwork, I'm always amazed at their incredible craft and design.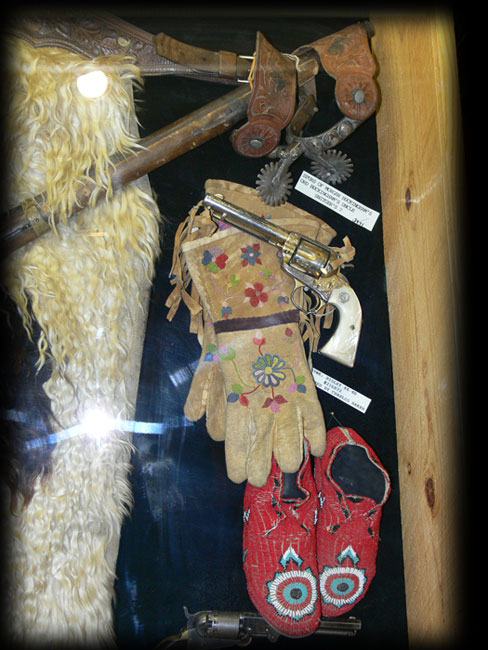 Not only do they have showcases all over the walls, they decorate right up to the ceilings! Terry and I are constantly amazed at the huge numbers of antlers we see used decoratively all over this part of the country. Gaston would feel right at home!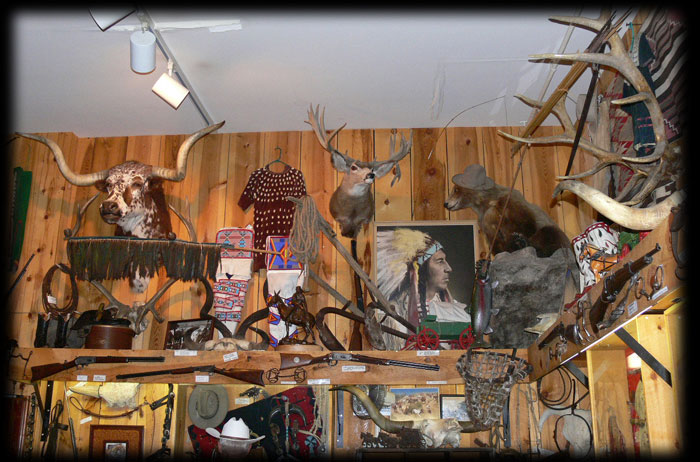 There are also lots of paintings in the Museum, but this one was my favorite.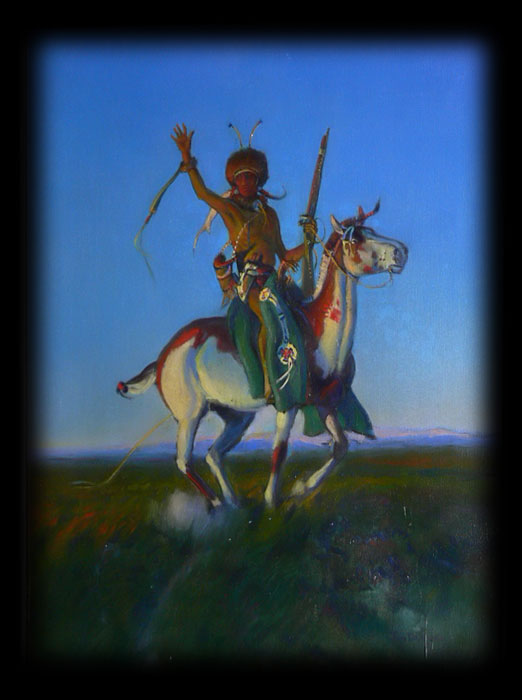 More mocassins and beadwork. I'm not sure what this large blue and orange piece was intended for (maybe it really is a shoe bag??) but I thought it was wonderful,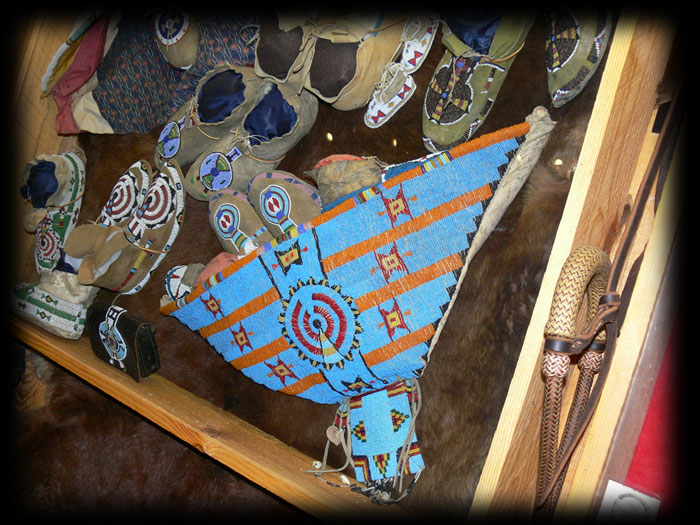 More amazing beadwork, some really beautiful Indian bonnets and some examples of the artwork of Bernard Thomas , a native son of Sheridan.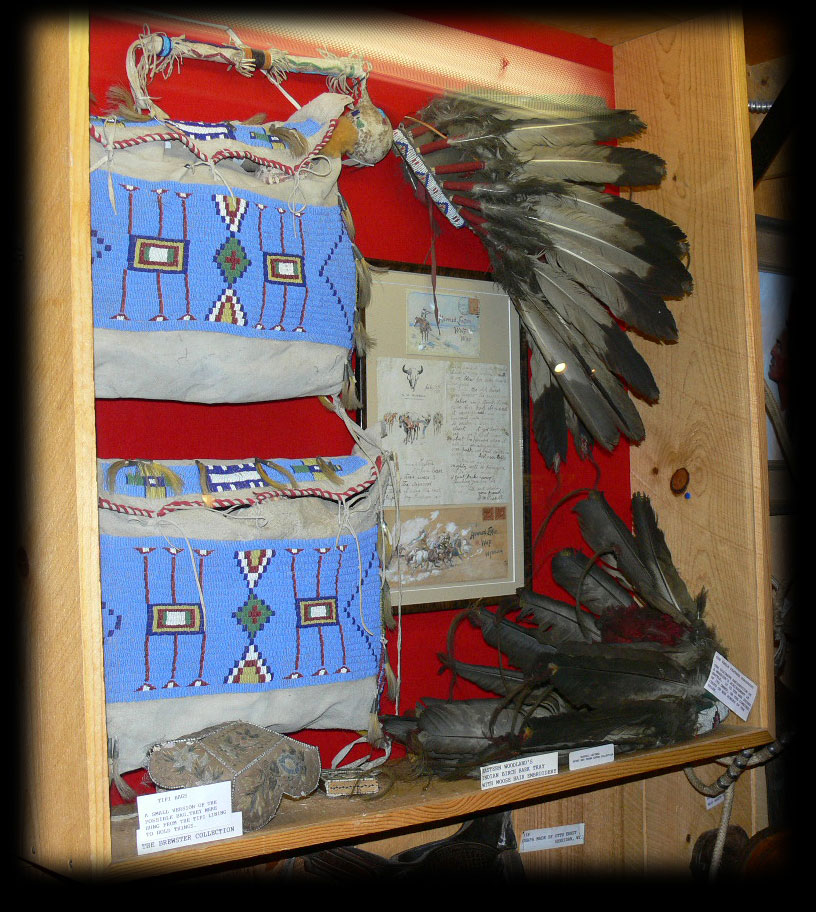 Traveling in this area, we kind of get used to seeing old photos of the 1800s, but, immersed in this Museum, it made me realize that all of this is real, not just the reproduction we're used to in modern life. I loved this painting, and especially in this setting.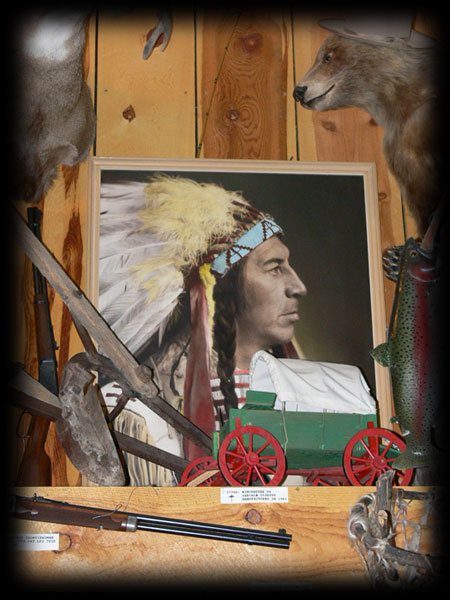 Another thing I really appreciated about this Museum was the way they combined the items for their showcases. It was quite artistic and showed all their items off to great advantage.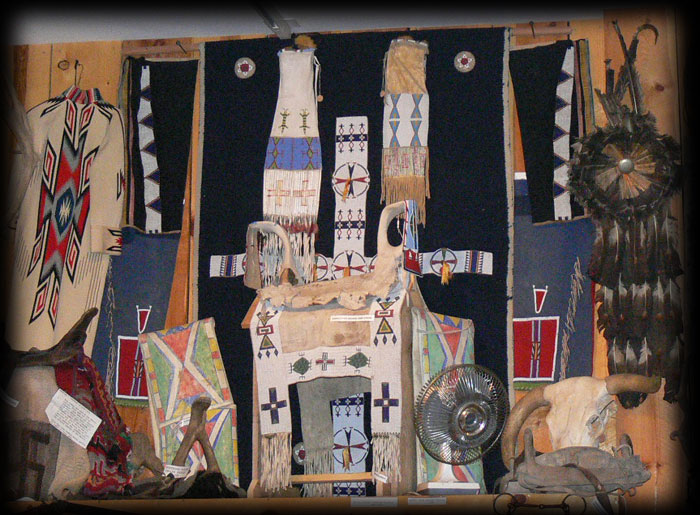 I was taken with these mocassins. The pair in the center are decorated with quills, a beautiful alternative to glass beads. These were from a local reservation circa 1888.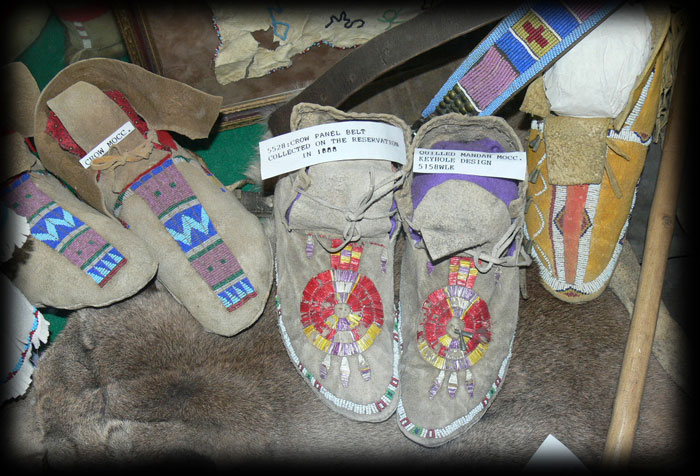 From 1880, these mocassins were unusual in that they were completely beaded, rather than just decorated on the top, as so many are.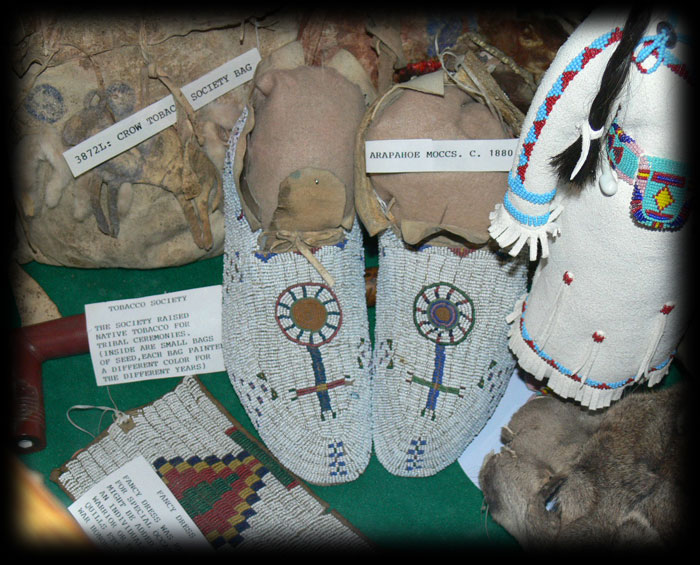 I thought this dress was amazing. Can you imagine how many hours it took to make such a garment? And isn't it wonderful that this one, and so many like it have been preserved so we can still appreciate them?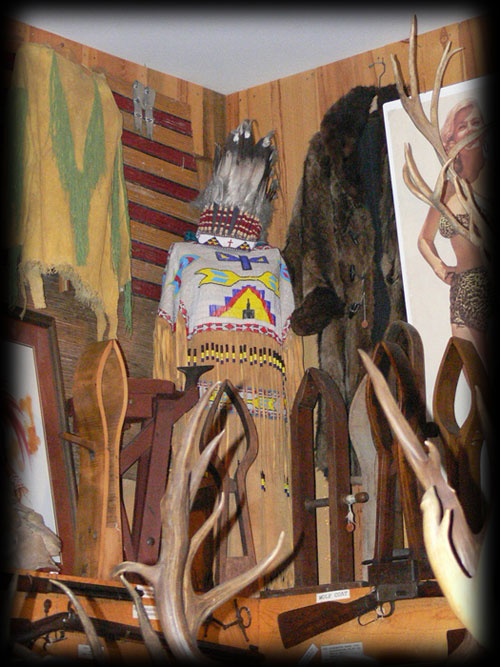 I decided to include this vintage poster, which we've seen in several locations. I just really like the look of it and I thought it was a nice addition to the Museum.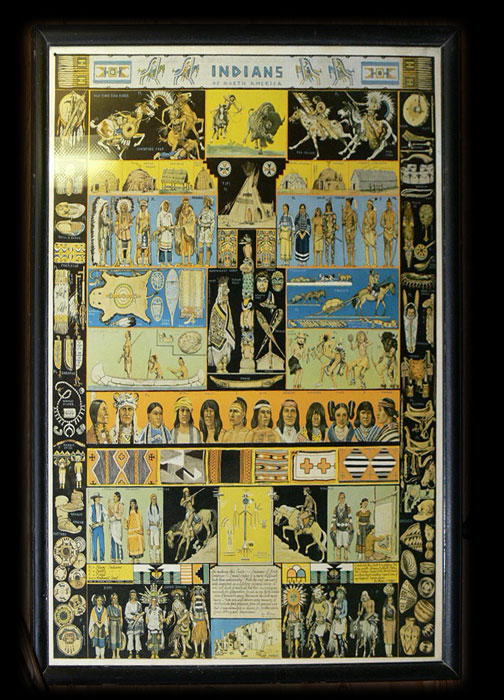 In closing, I really want to recommend Sheridan in general and this Museum in particular. There is no entrance fee and it's a wonderful place to experience our country's history. We liked it a lot, can you tell?
Till next time . . .

This Website was created on a Mac by Kate Klein