<

July 22, 2006 Downtown Sheridan, Wyoming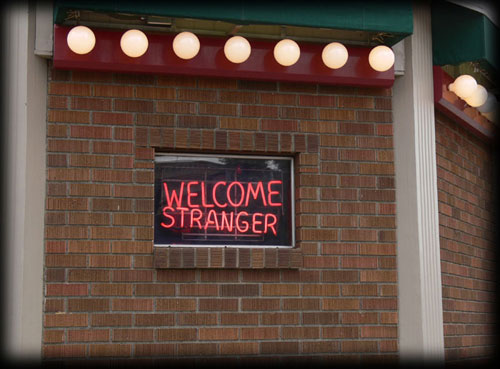 While I have already posted an album of some of these pictures, I find myself so taken with this city that I wanted to explain some of the images a bit more. We all have found the architecture and public art in Sheridan gives it a unique flavor. Then there are the folks here. This sign in a local bar truly epitomizes the warmth we found in this western town. Combine these qualities with the rich history of this area and it all blends to make Sheridan pretty wonderful.
One of the first pieces I saw when we went downtown was this rhinoceros. At first, I was a bit taken aback, because this is quite a large piece of sculpture, and there it just sits on a street corner! The more I looked at it, the better I appreciated it. Just sitting out there like that, the patina is just lovely and I really like the flavor it gives this corner. I've made sure to visit it every time I go downtown.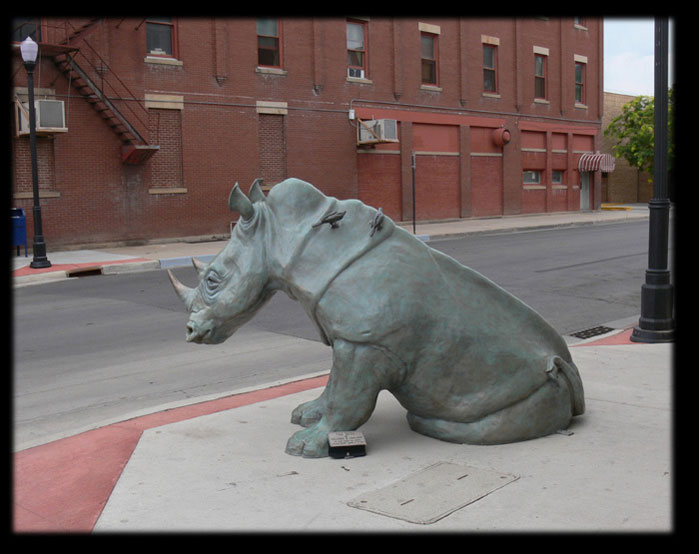 The actual buildings are a wonderful conglomeration of ages and styles. This old stone building is now a bar and restaurant, but wouldn't you love it if those walls could talk?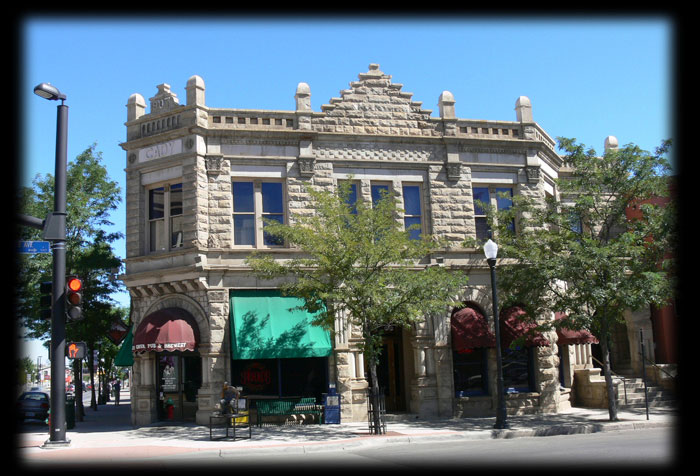 And this old lovely was originally a bank building, I believe the Bank of Commerce. I was drawn to the way it had been situated so that the front door didn't open square to the street, even though it wasn't on a street corner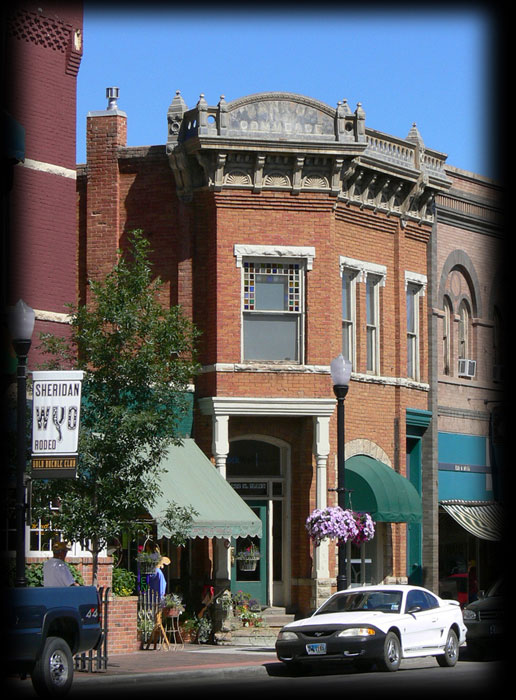 As we walked down the street, I kept looking up, down, around corners, there were wonderful details everywhere. While this may be a stretch, it reminds me very much of Main Street in Disneyland. While Main Street is fashioned on the long ago Main Street of Marceline, Missouri , where Walt Disney spent part of his youth, this town definitelay has the same flavor.
Looking up, I saw this roofline and had to take a picture!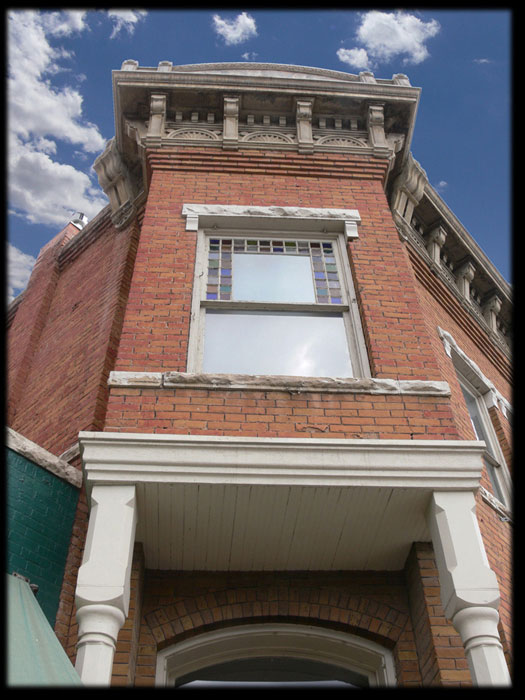 I also thought this brickwork was unusual. The combination of the arches and the circular brick makes quite an unusual combination.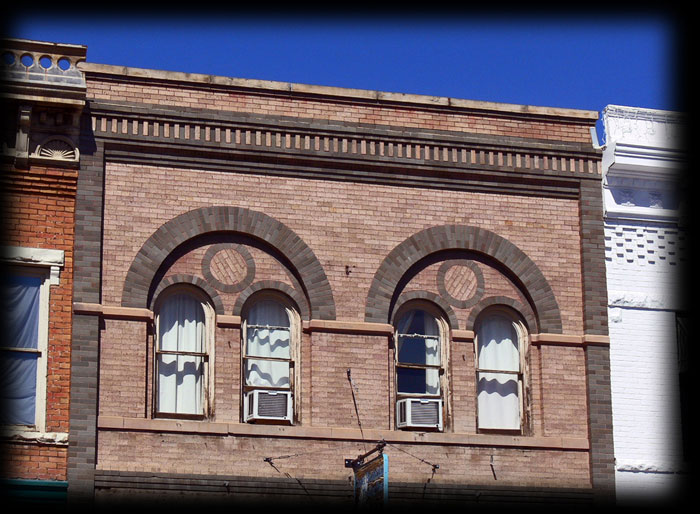 One of the other things I noticed was that while many of the facades had been redone, theey had thoughtfully left in many of the old details, including a number of the original doors. I loved the contrast of the green door against the red and white brick. In my opinion, the awning sets the whole thing off perfectly.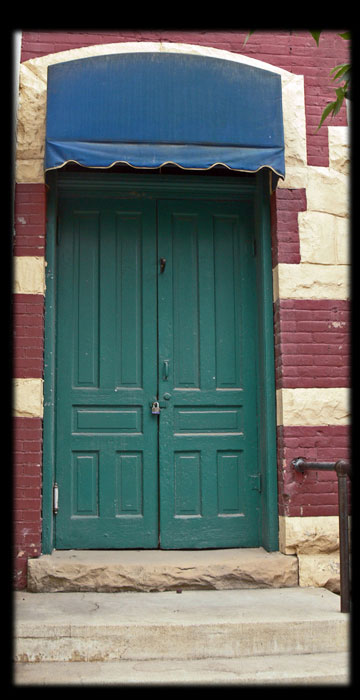 I can't quite figure out why I like this picture so much, maybe it's just all the red, my favorite color. I also like the shape, and even though the doors are different, I think they fit perfectly.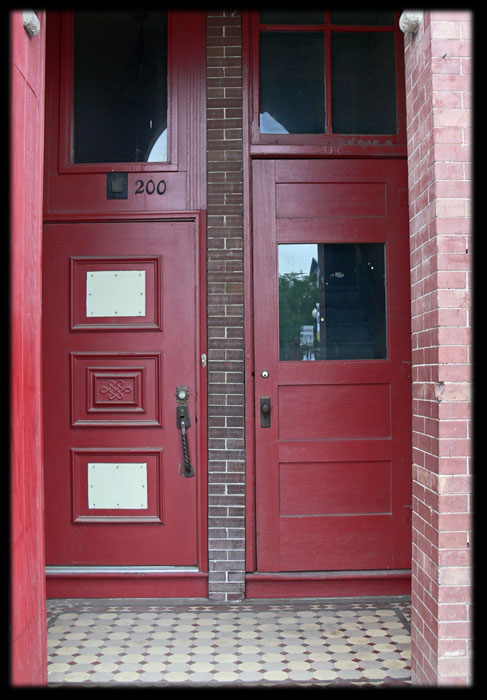 The ironwork on this door really caught my eye. Set against the glass bricks at the top, I found this whole presentation quite striking.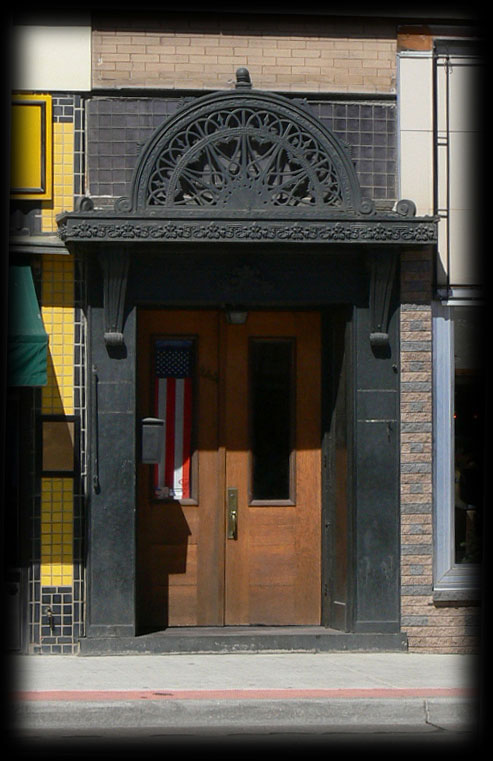 And it seemed that everywhere I looked, there was tile work. I'm a big fan of tile, the bright colors and texture strike a chord somewhere in me. This was the facade above the sidewalk on one of the stores.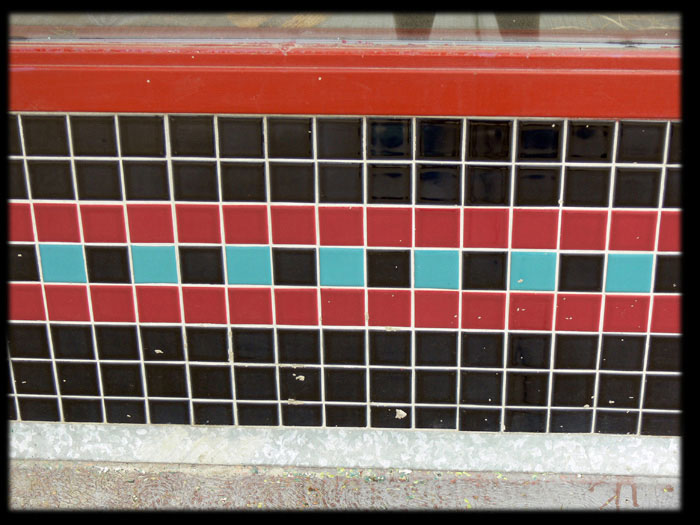 And while this wasn't in the best repair (it could use a thorough cleaning!), I thought the intricate pattern was quite lovely.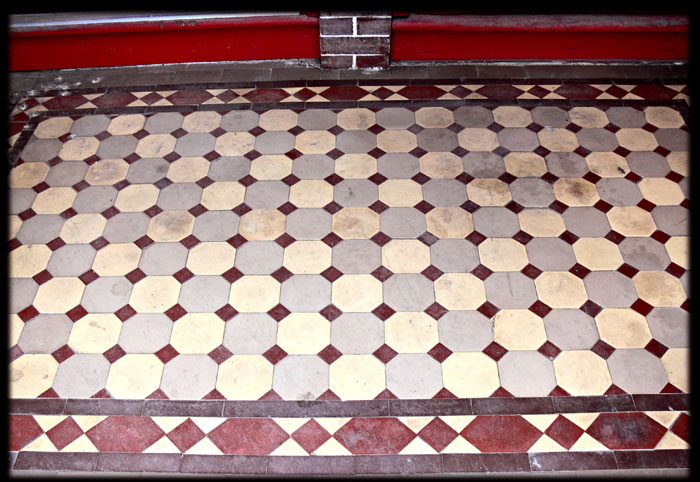 There's something about this shot that I just love. When Terry and I had one of our first houses, I painted the bathroom floor glossy black and used red and white accents. I always loved that color scheme so maybe thats why I like this so much.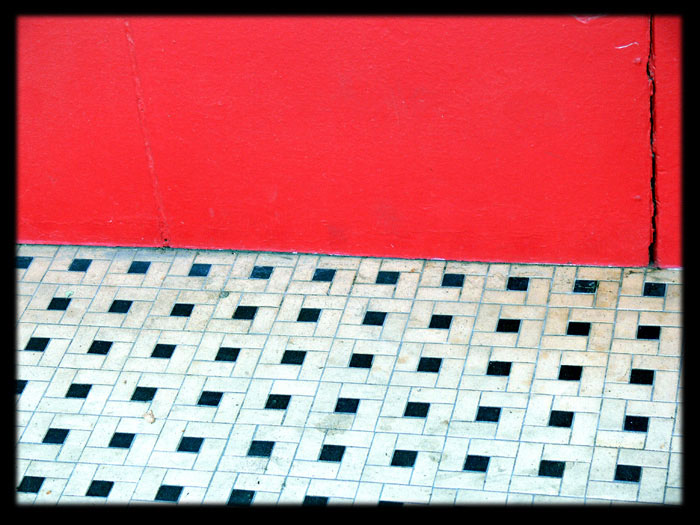 Again, I'm not sure why I liked this so much. I saw this old floor mat with these tiles peeking out and I had to take a picture. Like it or not, I think it's wonderful.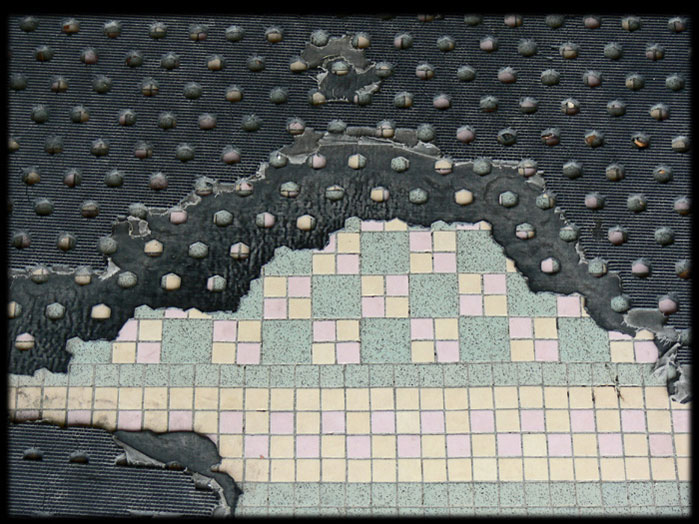 Wherever we go, I always look for dragonflys. I think they are one of the most ethereal creatures on earth. If this hook had not been firmly attached to the building, I would have run right inside and tried to buy it!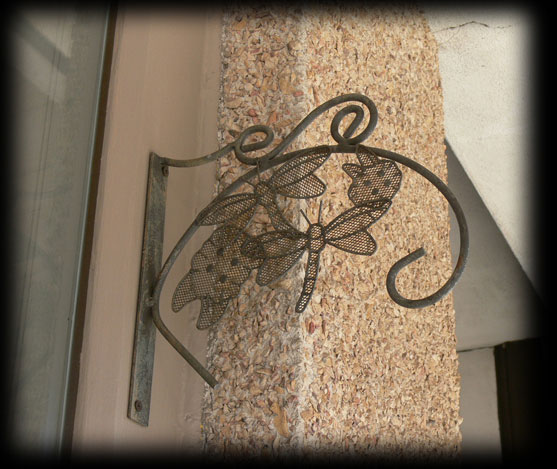 I really appreciate the old wood trims on these buildings. To know that underneath all that paint is a piece that someone made years ago makes me feel really good. How many colors do you figure we'd find if we started to slowly strip the paint away? Kind of like rings on a tree . . .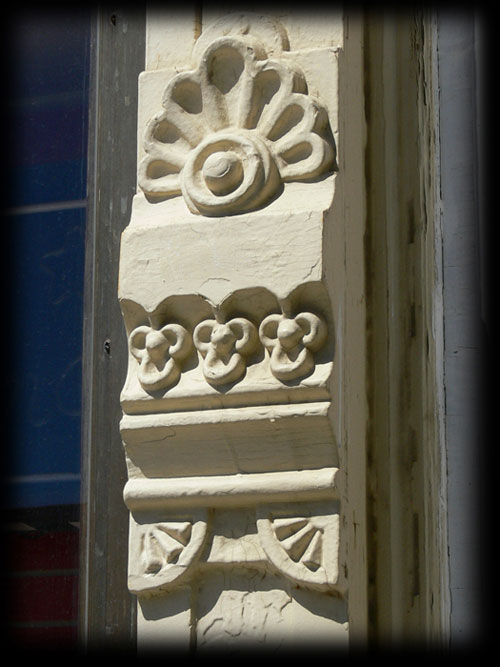 So as I'm walking down the street, I see this really impressive furniture store. When I went in, I couldn't believe it! There were rooms and rooms of this kind of hand made furniture, all spread out with tons of room around each suite (kind of like the state of Mointana is spread out!). Can you imagine the size of room you'd have to have to accomodate this? Still, I think it's beautiful in the right setting.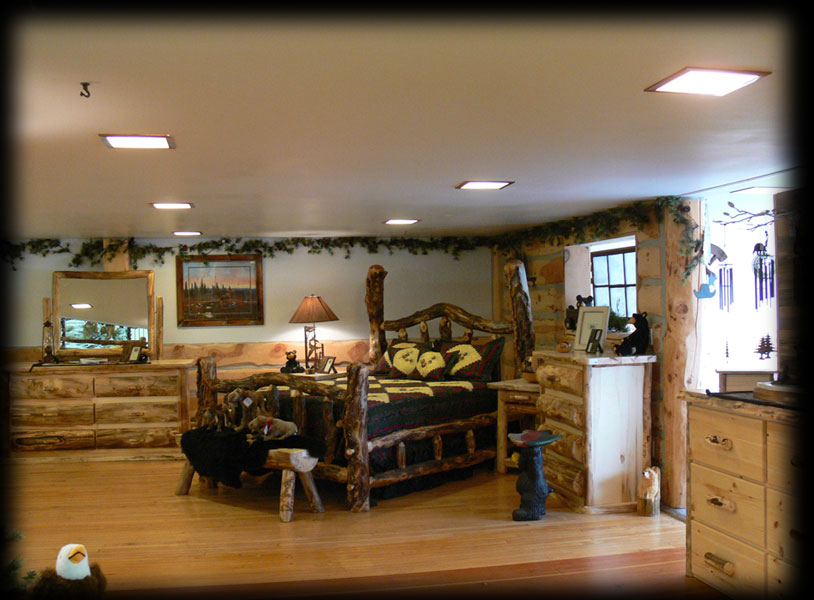 Then, I saw this outstanding old jacket in the window of a Museum/Gallery. As they were not open, I couldn't tell if it was for sale or just on display, but it sure caught my eye!. I'm assuming it's old and imagining all the stories it could tell . . . I do love the old beadwork.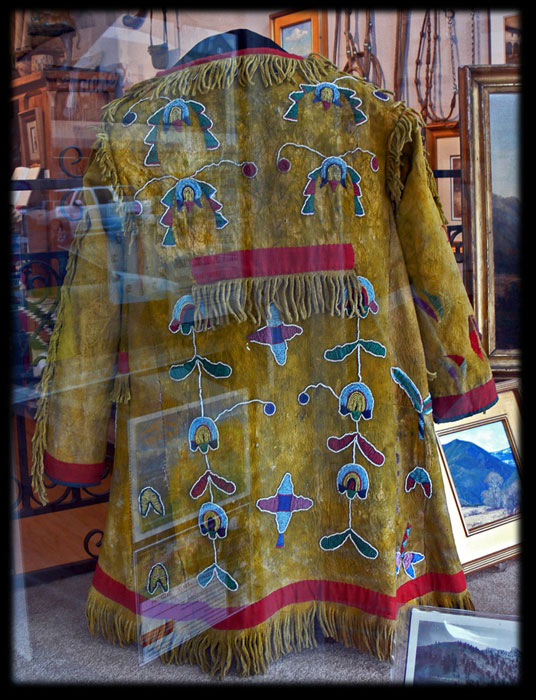 And just about across the street from that fabulous jacket stands this statue, which is supposed to be an early Wyoming scout. Can't you just see him wearing that wonderful buckskin jacket?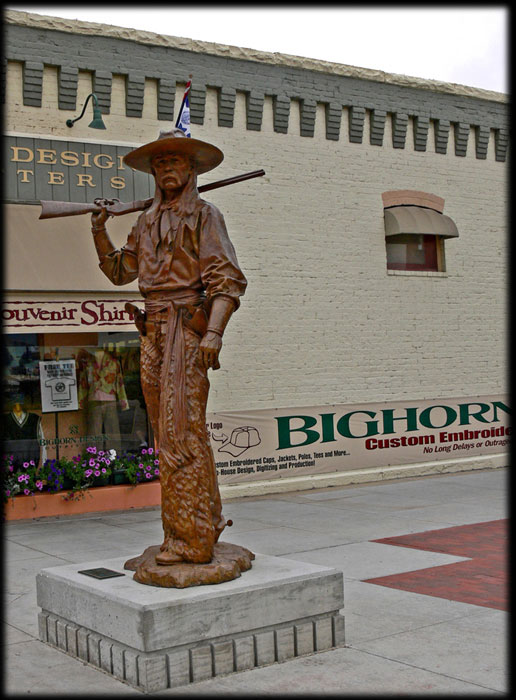 So I hope this has inspired you to take a trip to Sheridan. We have loved our time here and will certainly be back.

This Website was created on a Mac by Kate Klein