July 12,2006 Moorcroft, Wyoming
What a wonderful time we're having! Wyoming is proving to be as special as we had hoped. It's become a standing joke among us that everywhere we go, I say "This is the best spot we've ever been in". I can't really decide if each spot is actually BETTER, or if I'm just completely overwhelmed by everything we see.
I can see now that I've been pitifully ignorant of this country we live in. Traveling by plane, or quickly driving to a vacation spot (something I think of as destination driving, a practice I loathe) certainly hasn't prepared me for what we've seen.
The town of Moorcroft is a true small town delight, population 807. For such a tiny town, we were all suitably impressed with the snazzy paint job and beautiful logo on their Police car. Devil's Tower is nearby, so they lay claim to the monument and use it freely about town.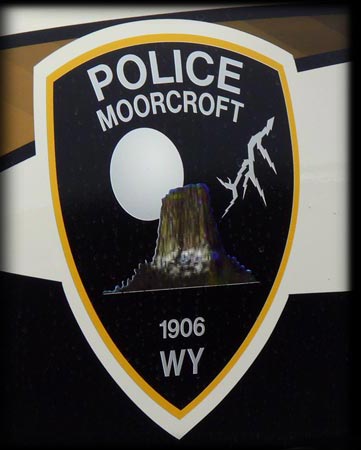 The town of Moorcroft is a true small town delight, population 807. For such a tiny town, we were all suitably impressed with the snazzy paint job and beautiful logo on their Police car. Devil's Tower is nearby, so they lay claim to the monument and use it freely about town.
We went into town on Saturday and happened into their 100th Anniversary Gala! And I want to tell you, it looked to me like all 807 residents were in the parade. What a hoot! We all loved it and took way too many pictures. My favorites were all the Shriners in their tiny cars.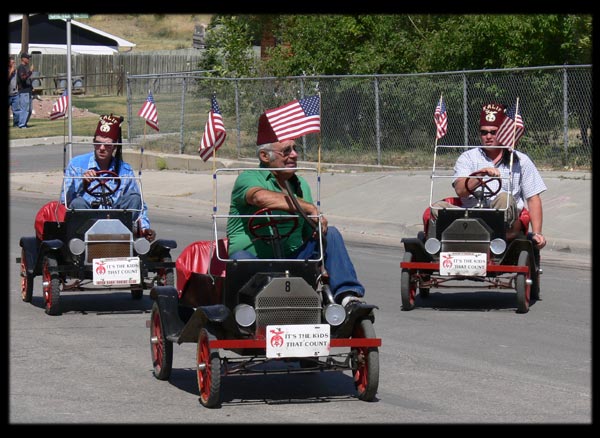 They also had a car for each graduating class going back to 1960. I believe the largest carload could not have had more than 20 people, including everyone's children. Also, this being Wyoming, there were lots of horses and wagons.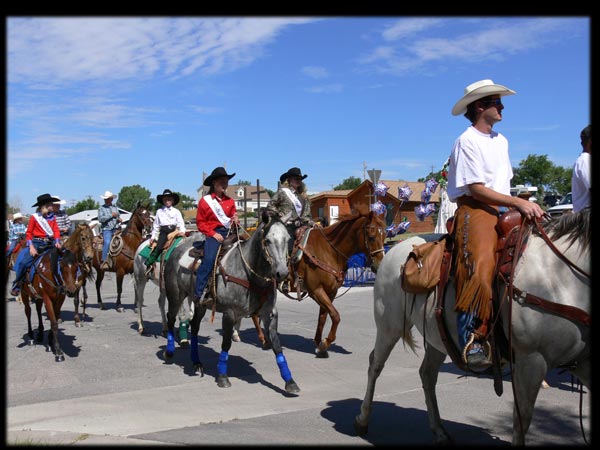 We also saw a great old bus, named Wuzzabus, with LOTS of modifications. We were wondering if they used it to tow a fifth wheel, with a back cut-off like that, but unfortunately they were too busy for us to ask any questions.

If you're at all interested in seeing more of the parade, click here
We are so pleased with our campsite, it is truly special. Terry took a walk and shot this picture just for the website, so we could show you how beautiful it is here at Keyhole.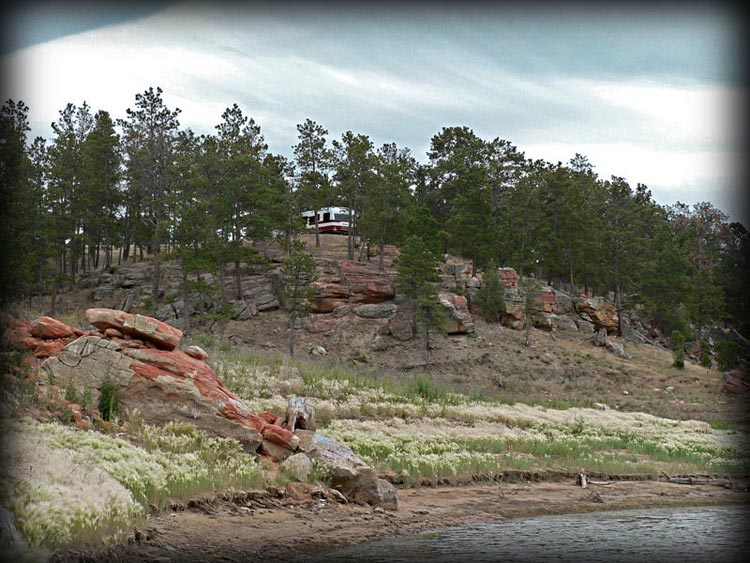 Since we are SO close to Devil's Tower, the first full day we were here, we all jumped in the Tracker and took off to see Devil's Tower up close and personal. Terry took a good look at the xeroxed map the Ranger had given us and thought he saw a dirt road that led straight from our campground to within a mile or so of Devil's Tower Junction. Rather than backtracking to the main highway, we decided to be adventurous, and what a great decision this turned out to be! We followed a dirt road through some of the most beautiful scenery we had ever seen. We passed through rolling hills, farms, ranches and plenty of wide open country. At one spot, we stopped by this lovely stream and just marveled at this glorious country.

And finally, we spotted Devil's Tower, although to be honest, at first glance, it was pretty small. To be completely fair, we were still about about 15 miles away; however I was still really excited. Like so many people, my first introduction to this wonder was in Steven Spielberg's Close Encounters of the Third Kind (which was waaay back in 1977)
I admit that this film moved me greatly and it is still one of my favorites, although my affection for it has more to do with the message than with the location. That said, I have been fascinated with Devil's Tower ever since and this was my first chance to see it in person.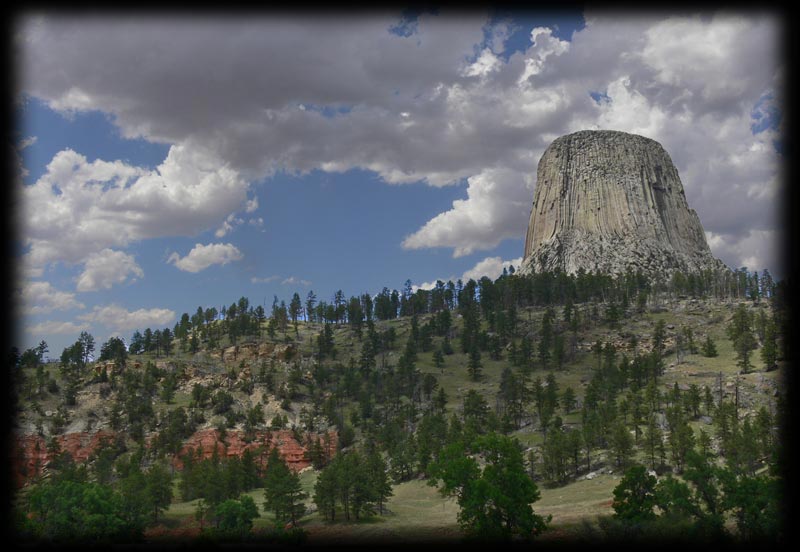 And can you see just why I was so impressed? We discovered that there is actually camping at Devil's Tower. The campground is run by the National Park Service and costs only $12.00 a night or $6.00 for seniors with the Golden Age Passport! I had asked around and looked online and everyone talked about the KOA, but no one had ever mentioned that there was camping practically at the base of Devil's Tower!
The Tower itself is what is known as a volcanic plug. It sticks pretty much straight up (kind of like a giant fez) and while I can try to describe it, the reality is you should see this place for yourself. Before we leave this area, we plan on spending at least one night at this mystical place.
After an exhilarating afternoon, we came back to our rigs.
So here we are in beautiful Wyoming, and Andy has sent for his mail. Being on the road, one of the things you have to get used to is only getting your mail occasionally. For me, I always get kind of excited when I know the mail is coming, sort of like Christmas! While much of it is standard stuff, I'm pretty easily entertained and usually find something that delights me in one way or another.
In this regard, our friend Andy and I are just alike. Now my husband Terry couldn't care less if he EVER sees another piece of mail (we are, after all, retired Postal employees), but Andy and I still get all excited over new mail. All of this Postal talk is leading up to the fact that a few weeks before, Andy had told me of a surprise.
We are both pretty computer oriented and we both monitor a site called Woot They sell one thing a day, in various limited quantities and when they're gone, they're gone. Several weeks earlier, I had asked Andy if he had seen the wrist walkie talkies they were offering on Woot for just $22.00 a pair? I told him that I had tried to order them, but alas! By the time I got in, they were all gone. But the good news is that Andy had snuck in earlier and not only ordered a pair for him, but also a pair for Terry and me. What fun! We could all play Dick Tracy out in the woods! So on this day, they finally arrived, and they were so much better than we expected.
Now, they are a bit large, but they work just fine, and the best thing is they interact with our Motorola Talkabouts. In fact, they work so well, Terry is even using one! We particularly like the fact that we can talk between rigs, and if one of us goes off by themselves, we all feel it's a good thing to have, just in case something should happen.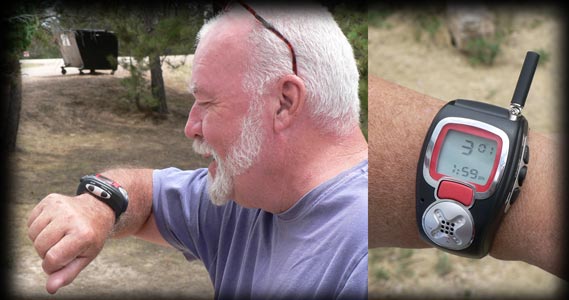 On Monday Night (July 10) there was a full moon. We had no plans, but around 9:30 a BIG old yellow moon started to rise and we all asked ourselves, What are we doing here?? So we jumped in the Tracker with all our photo gear and headed back to Devil's Tower.
When we arrived, it was just spectacular, but we had a bit of a time finding a spot where the moon was perfectly situated for pictures. We all took off in different directions (wearing our wrist radios of course) and started the hunt. Finally Terry decided to take the Tracker and find a spot. Several minutes later, he came and said he had found the PERFECT spot, and did he ever! We drove to a huge open meadow and started up the Joyner Ridge Trail. I really wish I could describe this site, but my poor picture will have to do. Suffice it to say that if you ever have the chance to see Devil's Tower under a full moon, run, whatever you do, don't miss the opportunity.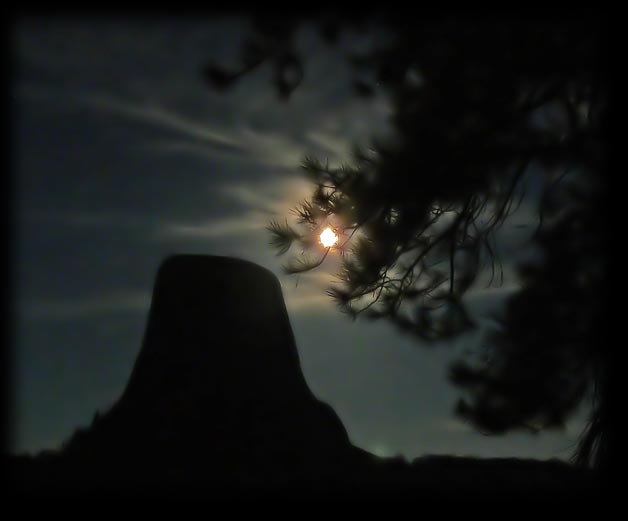 We all returned at 1:30AM (a late night record for us) and were completely pooped the next day, but it was certainly worth it.
At sunset Terry took this shot down by the river below our campsite. It was just so beautiful, I decided to end this entry with his wonderful shot.
Life is Good.