May 21, 2006 The Zoo & Other Things to Do in Albuquerque, New Mexico
Since we've had great feedback about our Atomic Museum page, I thought I'd add some more of the things we liked so much about Albuquerque. While it's true that we had a great time at the Balloon Fiesta in 2005, we found we split most of our time between watching the balloons and trying to figure out the ins and outs of the new Lazy Daze. This meant that we really got to see very little of the city or it's surroundings.
Now that we had a bit of time under our belts, and since Cholula was fast approaching 9,000 miles, we decided it was time to visit Albuquerque again. Our main reason was that we had gotten such excellent references to Statkus Motors (an authorized Ford Warranty Shop) located in downtown Albuquerque. We felt it was time to have the Ford part of our rig at least checked out by professionals. While we had experienced no problems, we just wanted to be sure.
Since we now had the Tracker, we felt all right about choosing a park a bit out of town, so we dug out the Passport America book and found a park just about 10 miles out of town. At this point, we were traveling alone, but our friend Tami was coming to join us, so this seemed ideal. While the park was pretty much a standard RV park, we were pleased with the location and the price ($11.50 a night with the PA discount).
In a few days, Tami had pulled in and Andy also joined us, so once again, we were in the middle of a mini LD convention!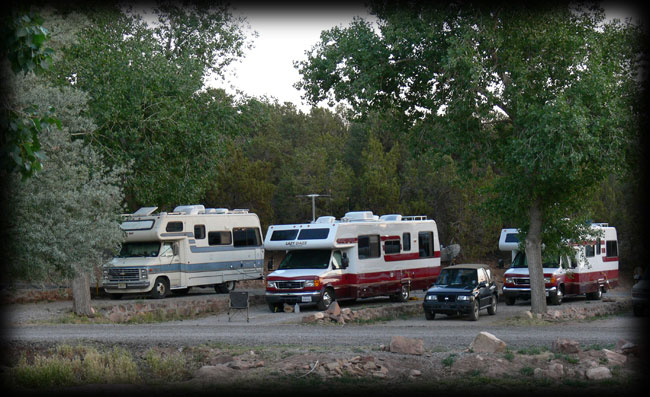 Tami and her little dog Mona travel in a 2005 26.5 Midbath (red, like ours). Mona often comes to visit (all the dogs we meet LOVE Terry and vice versa) and one day I took this photo of her resting on the couch. I'm including it here, because this little pup rarely stands still, so this is the only photo I've gotten of her!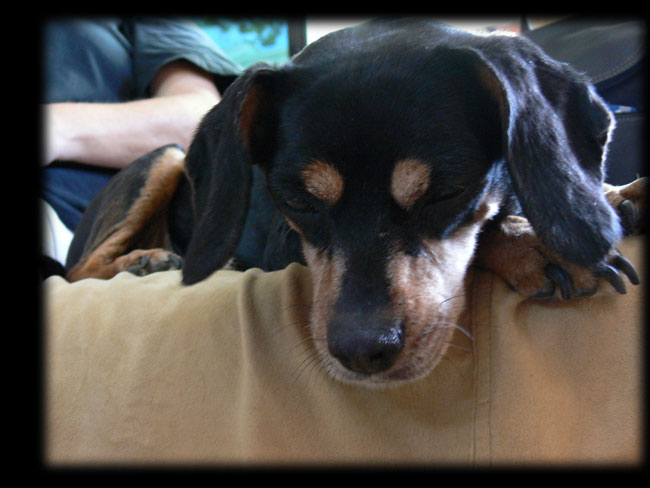 One morning, Terry and I got up really early and decided we would go exploring. One of the things we had noticed driving through Albuquerque was an abundance of public art. This morning, we shot this photo on the freeway! They have not only painted most of the freeway overpasses in beautiful shades of turquoise and coral, but scattered along the medians are huge pots like this one!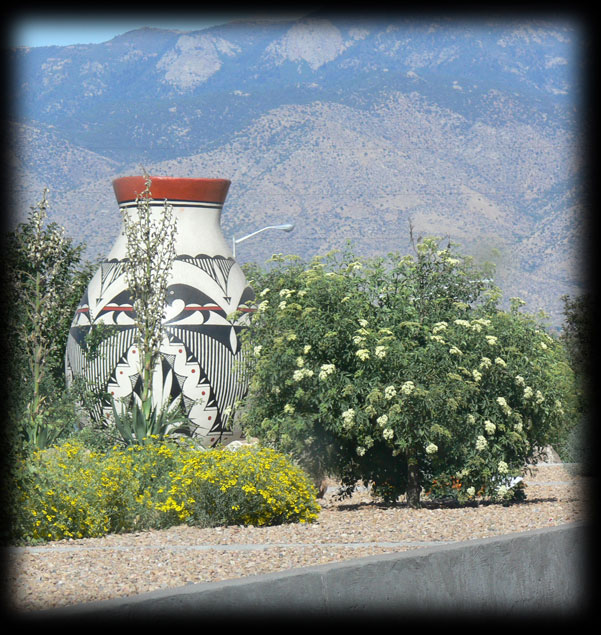 We had decided to head downtown. We knew there was a Zoo, an Art Museum, a Botanical Garden, an Aquarium and who knew what else! So we decided that this would be an adventure day and we would just see what happened.
We started out across from the Atomic Museum, where we had seen a collection of outside statuary. There is a huge life size tableau that shows Native Americans, Spanish Explorers, and even Pioneers, complete with covered wagons and oxen. This piece is gigantic and incredibly impressive. It sits on a knoll and is probably fifty to seventy five feet long (I am horrible with measurements, so this may be way off); however, it's completely life sized and wonderful. All the figures are bronze and I was completely bowled over!. I've only included this one photo as the light was wonky and most of my pictures of this piece didn't turn out too well.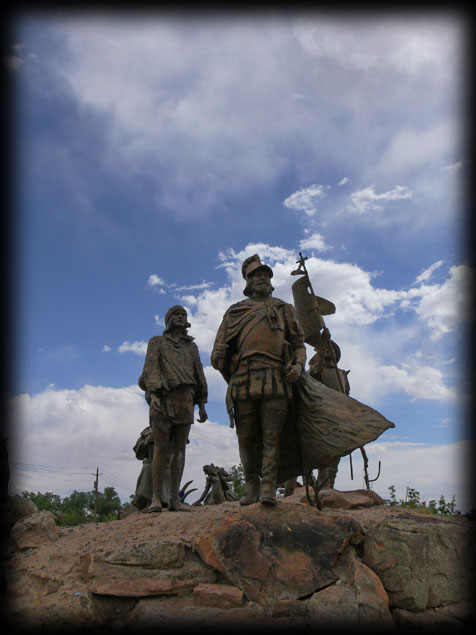 Further on was this piece, a super representation of a Native American Goddess. I particularly liked the use of turquoise in her neckpiece.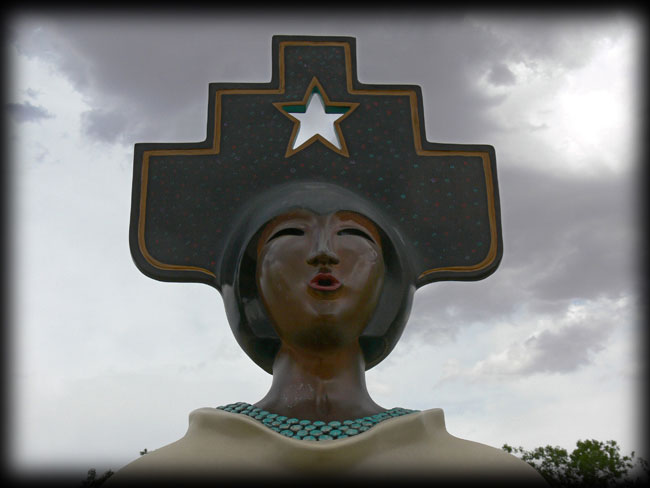 Back behind the Museum is a gateway to the old part of downtown, where the locals come to sell their wares. Much of this gateway is decorated with some of the most wonderful tile work I've ever seen. Not only is it great mosaic work, but each piece has dimension, adding a different feel to the artwork.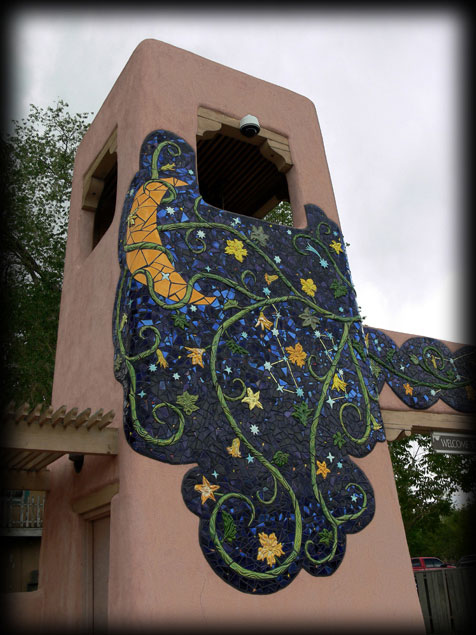 This is a close up of one of the flowers on the gate.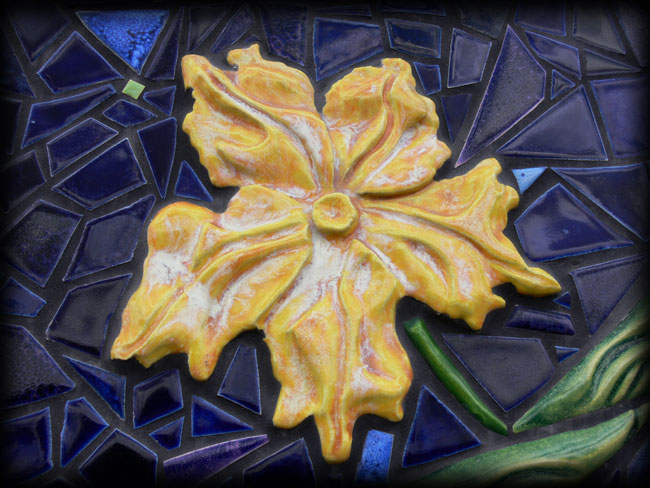 Here's another close-up of some of the tile-work. I actually took a ton of pictures of this artwork. I was mightily impressed.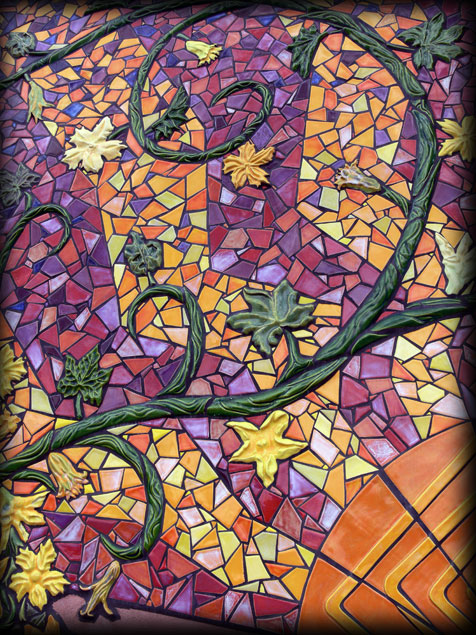 Then we proceeded into the Gift Shop of the Museum, where I was just knocked over by these baskets. These are hand made by Zulu women in South Africa from recycled telephone wire! Various organizations have banded together to market these wares so that these women can become financially self sufficient. If I hadn't been in the motorhome, I would have bought at least four of them.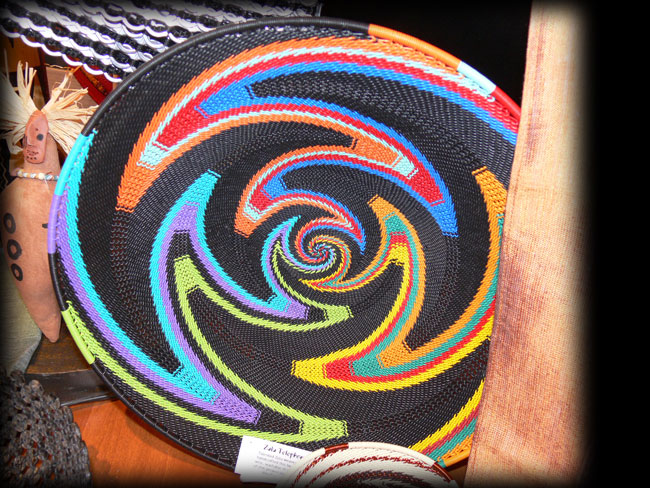 These baskets are so tightly woven and intricately designed, I couldn't believe how beautiful they were.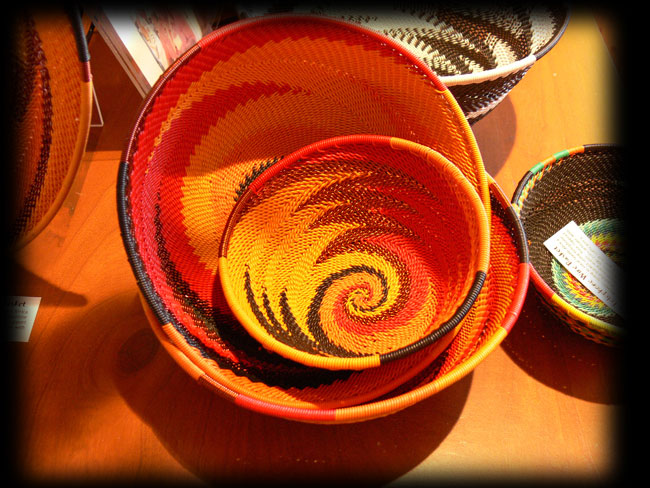 This is a photo of the information card on the ladies who made these particular baskets.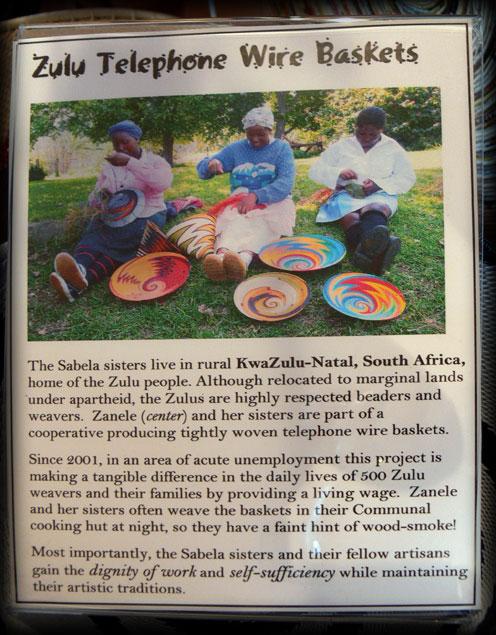 More photos of these beauties. In hindsight, I regret not having purchased a tiny one for the motorhome. When we go back this October, if these baskets are still there, I'll have to have one to brighten up the rig. While I have had to seriously cut back on my collecting, I find that having pieces such around me really adds to my daily life.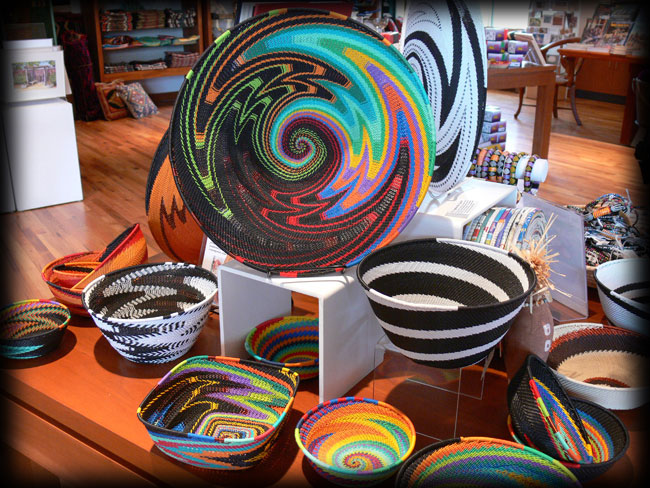 And I just had to include this picture. This is a fly swatter which just made me smile! If I thought it would hold up in the motorhome, I would have been sorely tempted, but at least I have this photo . . .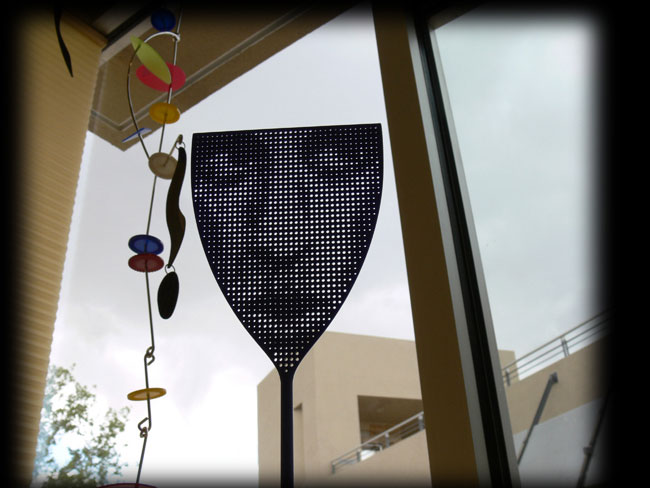 After our visit to the Museum, we went over to the Zoo, and what a delight this turned out to be!
Who would have thought there would be such a wonderful Zoo right smack dab in the center of downtown Albuquerque? We spent the better part of the day strolling through the various exhibits and taking photos. Remember that I had just gotten my new camera, so I took full advantage of the opportunity to put it through it's paces,
All of the Apes were behind glass, so many of these photos are less than perfect, but I just loved their faces.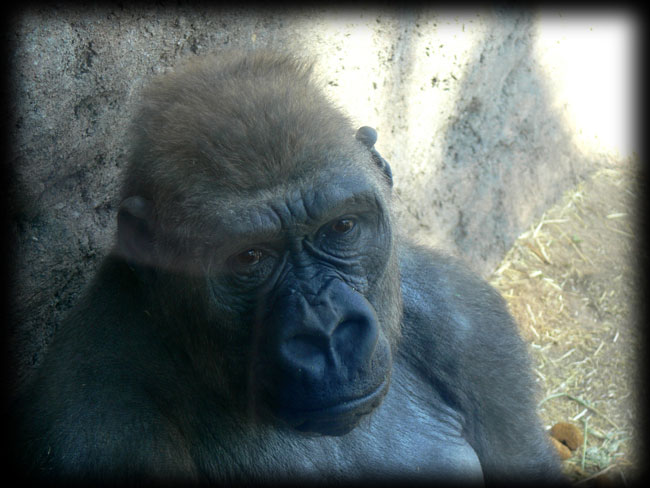 Now I have to admit that I did a fair amount of Photoshop work on this one. He was sitting outside and the wall behind him was completely blown out, so I had to create some sort of background for this guy. That said, I just loved his face, so I felt like I had to include it here.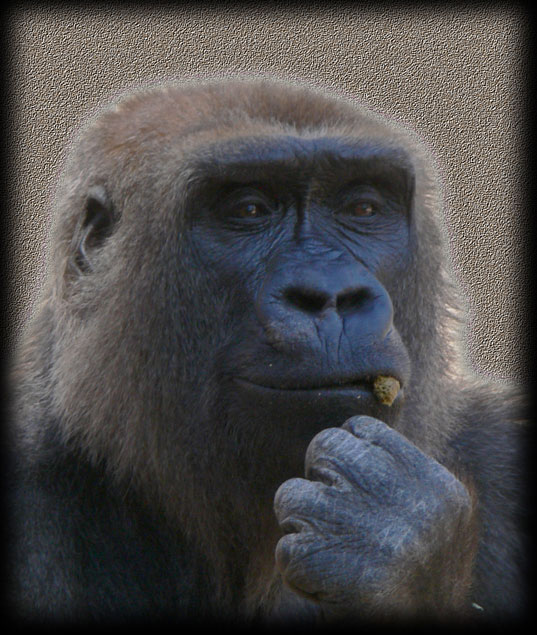 I sat and watched this baby for the longest time, and he just absolutely refused to turn around. Finally, I decided that this was the shot and now I find I like it a lot!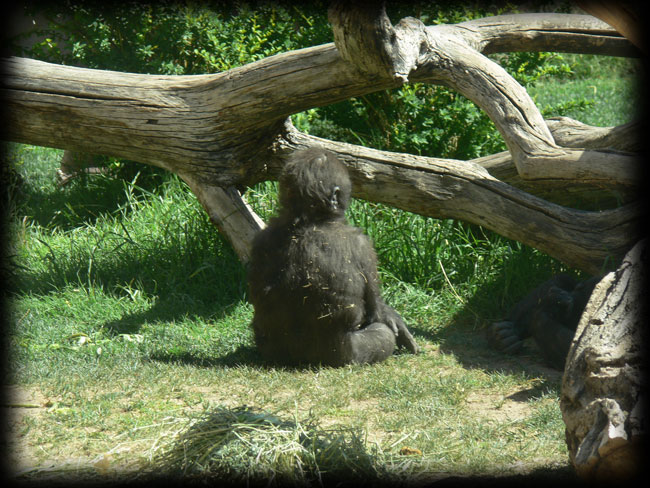 There's something about the shapes in this photo, I really liked the way the curves of the Apes hands and lips echo the curves of the wood.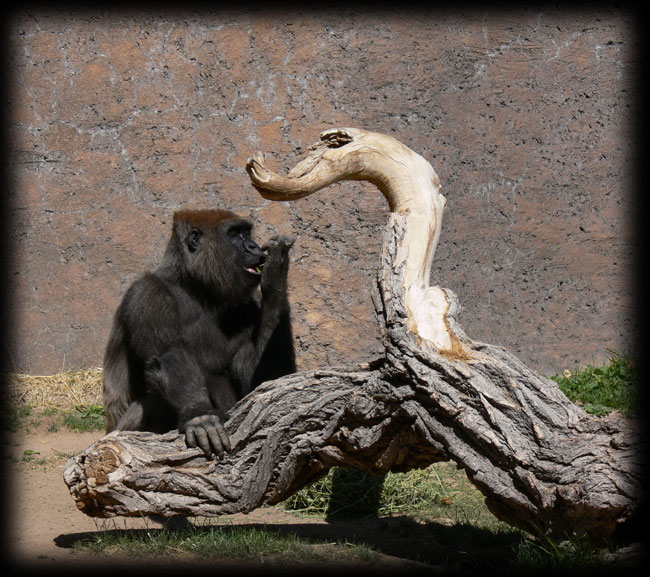 And after I had taken the first photo, he just turned and looked at me, as if to say "And what do you think you're doing??" I felt like I should have him sign a release or something!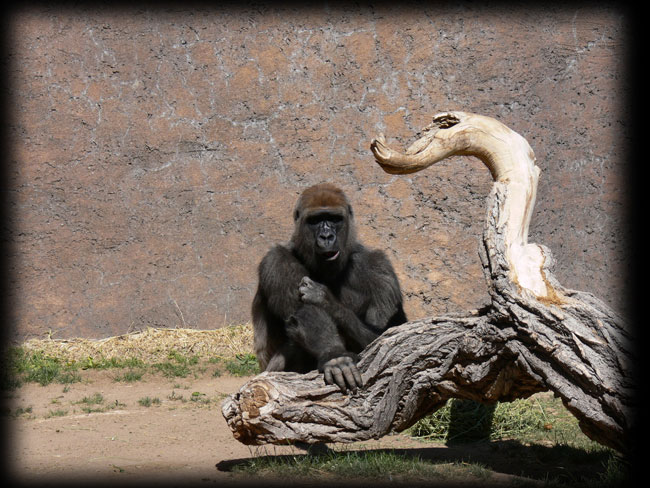 Here's a photo of a an Australian Kookaburra. I was playing with the camera here, trying to focus on the bird rather than the wire.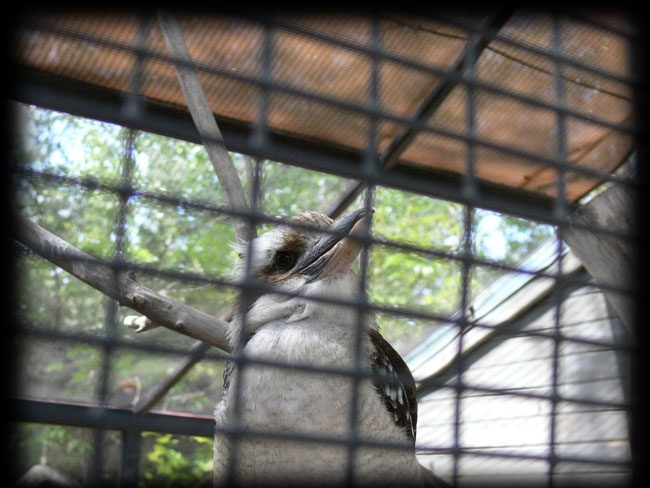 I was really impressed with the animal confines at the Albuquerque Zoo. They were quite large and open, affording visitors a great view of the animals, while still allowing privacy for the animals. These zebras were completely unaware of us.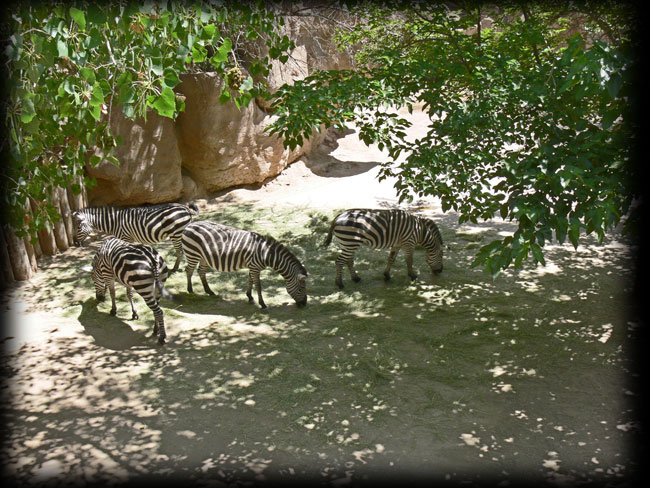 I've been to several Zoos, and never had the opportunity to see a Koala Bear (they always seem to be hiding). The enclosure here allowed us to visit these shy little bears, while not seeming to bother them one little bit!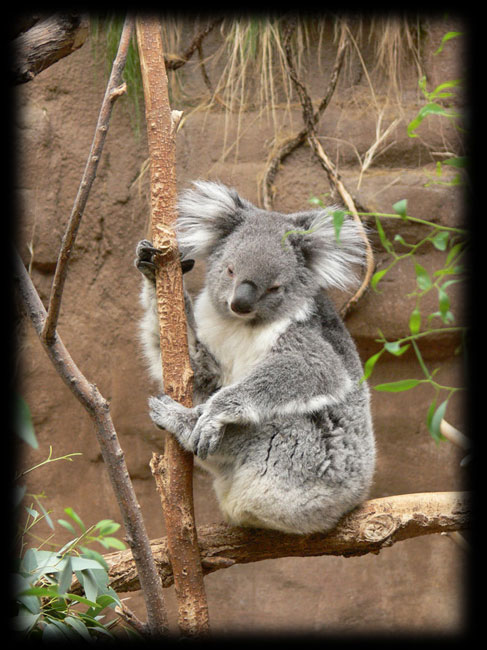 This camel was just resting in the sun.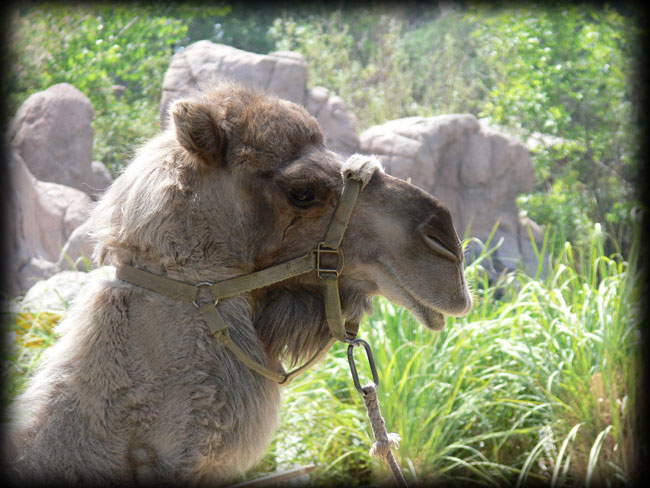 And this Jaguar (at least I THINK it's a Jaguar) seemed to have placed himself perfecty in the shade, with the rock and flower making for a perfect compsition. What an artistically aware cat!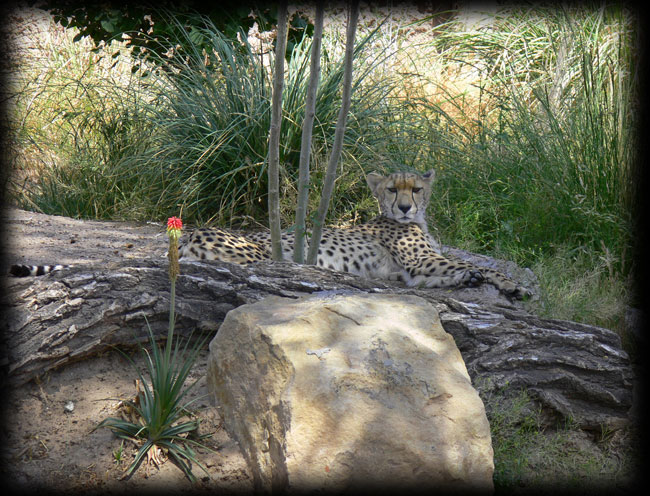 Okay, here's me showing off my new camera (which by the way is a Panasonic Lumix FZ-30). If you look at this photo, in the center, under the waterfall is a ledge. I've written "Under Here" in red on the photo because under that ledge is a tiger.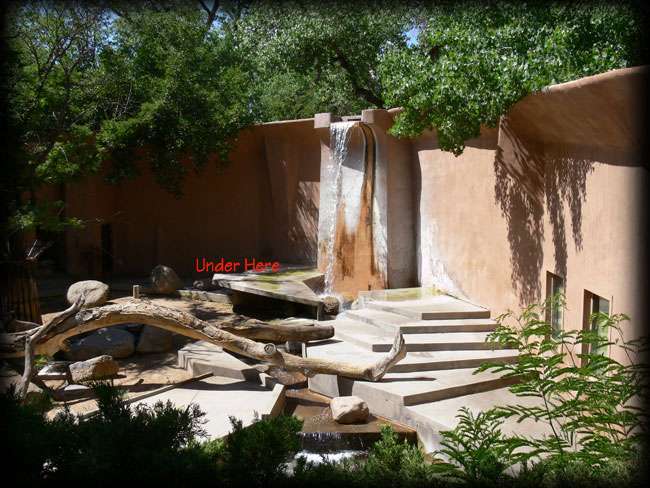 And here's the tiger! It was at this point that I got REALLY excited about the new camera.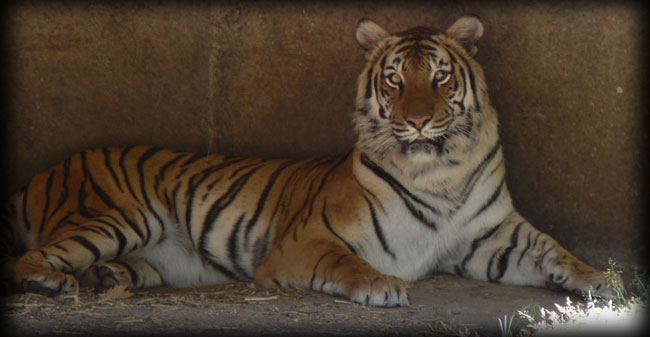 Down the road a bit was a remarkable Polar Bear exhibit. Both Terry and I were fascinated with this pair of bears. They were really active and just seemed to be having a wonderful time. The exhibit is set up so that you can go on top and see them from this perspective or go below and actually watch them underwater.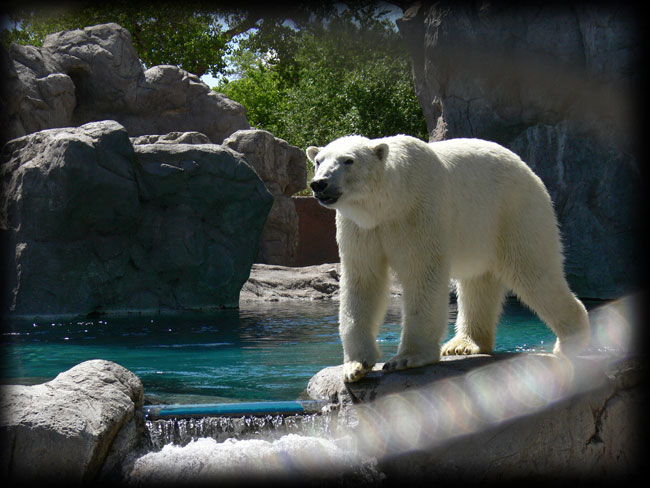 I just couldn't not include a picture of the wonderful flamingos. There were so many of them! They were all such a rich wonderful orange, I could watch them forever.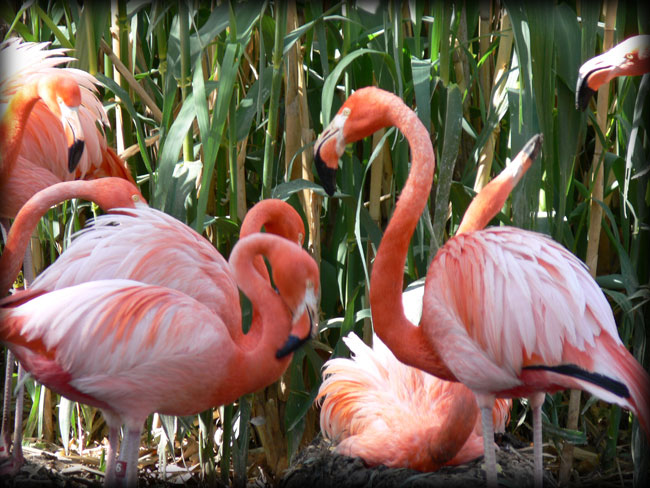 This final photo was taken in the Aquarium. I have a special place in my heart for jellyfish, and this display was a knockout. While the Aquarium is not huge, it is included with the cost of admission to the zoo and botanical garden, so certainly worth a look.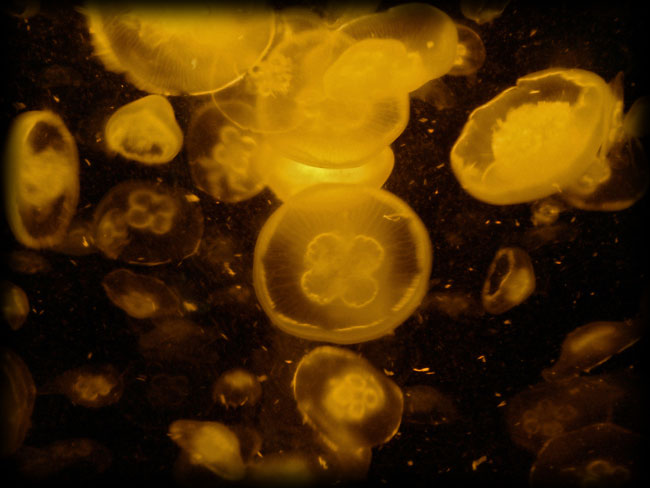 So I hope this little page will encourage you to go downtown the next time you're in Albuquerque. And keep you eyes open for when I post a page on the Amazing Tinker Town, which is another not-to-be-missed attractions in the Albuquerque area!