<

Improvements and Additions to the Exterior of Cholula Red

Gutters

One thing we disliked about so many rigs is the streaking that occurs from water running down the sides of the coach. In order to avoid this, we decided to install gutters on both sides of the motorhome.

These two pictures show how the gutters show when they are installed.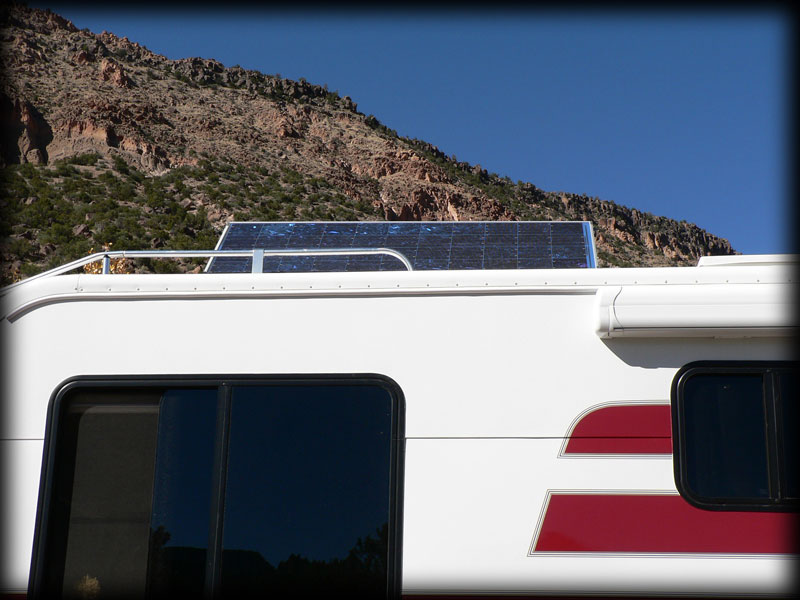 We butted them right up against the top edge where the roof is attached and they are pretty much invisible. These come with a 3M adhesive and stick quite well. They were easy to install (on a warm sunny day, make sure to clean with alcohol first).
The second picture shows where the gutters end at the back of the rig. One thing I really appreciate is when we pull out after a rain, the water from the roof goes down the gutters rather than off the side. Also, when we use the air conditioner, the condensation water doesn't streak the coach.
We've had very good luck with these and plan to install one over the back window (and possibly the windshield). They really do work and while we still get dusty, we don't get streaks.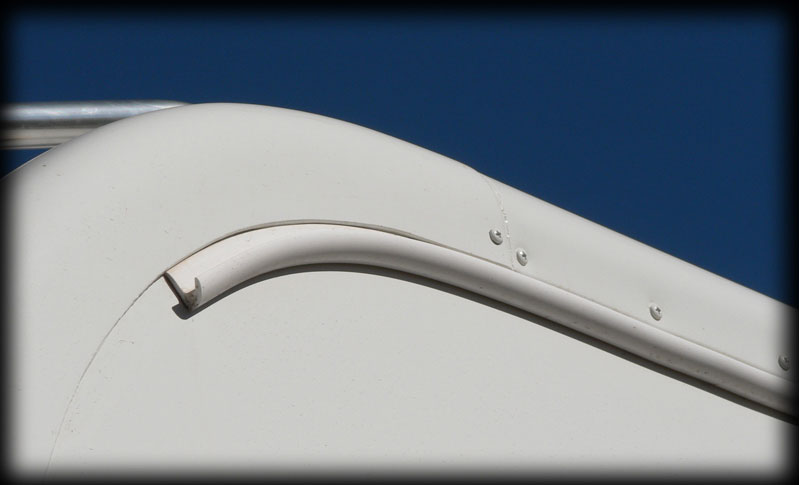 Doorbell/Intercom

We stole this idea from our friend Andy. I remember when I first heard him talk about a doorbell/intercom, and I thought, what a silly idea, who needs that?

Well, now I've had to eat these words. This little gadget is a battery operated doorbell for the outside of your rig with an intercom station for the inside of the motorhome. It's made by Speco and the model number is ProVideo BI-2WD . It costs just $18.00 and is it ever handy!

First we painted it white (it comes in a cream color that matches the older LD but is pretty yellow on a newer rig). Then we mounted the outdoor unit with Superlock , which we use a LOT in Cholula Red (as an aside, Andy has made an entire page dealing with Superlock. If you'd like to read more, click here ). Then we ran the very thin wiring through the front door and up the corner between the refrigerator and the door, over the door and down to below the big window valance, where we mounted the inside intercom (also mounted with Superlock).

Now, when someone rings the doorbell, we can hit the power button and hold the talk button and we can speak to them and hear what they have to say. And if you think this is a minor point, consider someone knocking on your door at 10:00 at night, as recently happened to us. We were dry camping at Vista Linda (very remote, only 10-12 sites, almost all unoccupied). We heard the knock and since our outside light was off, so we couldn't see who it was. Rather than opening the door, we communicated through the intercom. In our case, it was the campground host telling us to turn off our generator as quiet hour started at 10:00. But we didn't know that it was the campground host, and I sure liked the idea that I never had to open the door to find that out.

For my money, this is a great, inexpensive investment.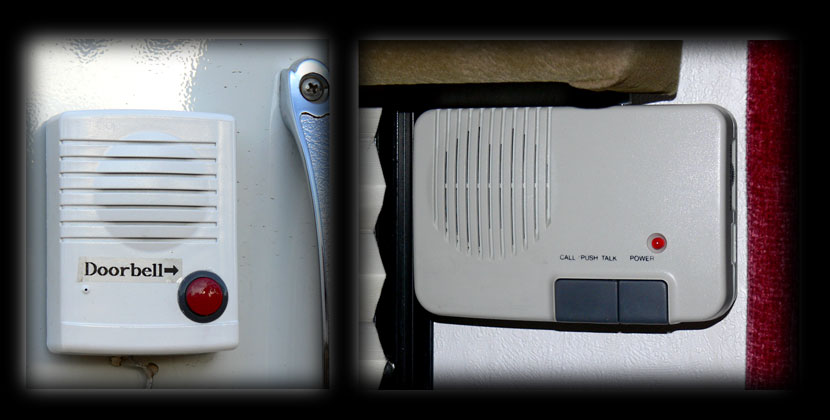 Naming Cholula
It took us a while to find the name for the Lazy Daze. After we had ordered her, we were sure the name would be Serenity, after the spaceship in one of our favorite television shows, Firefly. For months, while we waited for delivery, we referred to the Lazy Daze as Serenity. We kept the name for a while,but it never quite seemed to fit.
Then, one day I was in a Costco and I saw a display of bottles of Cholula Hot Sauce and the name just about jumped off the shelf at me. I just loved the sound of the name, and knew that this would be the real name of our Lazy Daze. Since she is such a pretty red color, I decided on Cholula Red and Terry agreed.
We went for months using the name Cholula Red, then one day we found a place called Streetglo Decals that would make a custom three color decal of any name you liked. Actually, these were meant for boats, but we figured what did it matter? I called a fellow named Bill, who owns the shop and after a while, we worked up a decal for the spare tire cover.
After removing the original LD Shield that had been applied by the factory (a hair dryer works great for this), We got this great looking logo! During the day it shows up great with red and black and gold.
But at night, it really shines, quite literally. Made of the same kind of reflective tape they use on highway signs, we like this a lot. Since we've gotten this for Cholula Red, several friends have gotten reflective logos for their rigs and we're all quite happy with them!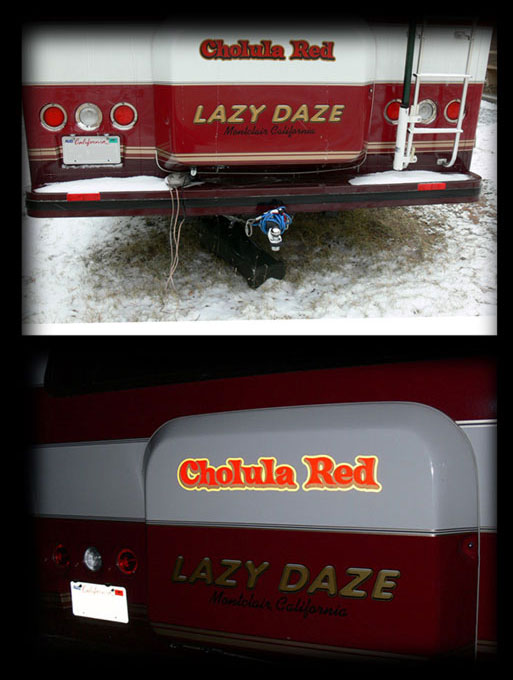 Jeweled Map

I've looked at those big maps that go on the outside of motorhomes for years, and while I like the idea of keeping track of where we've been, I don't care for the really large maps.

When we were in Quartzsite last year, I found the perfect solution! A vendor there was selling these maps, which they would make up in any color you choose (I of course chose white with red outlines). It measures 7 by 9 inches and we have it attached to the front door. As we visit different states, we just attach a tiny flat backed crystal to the state. While this might not be to everyone's taste, I like it a lot!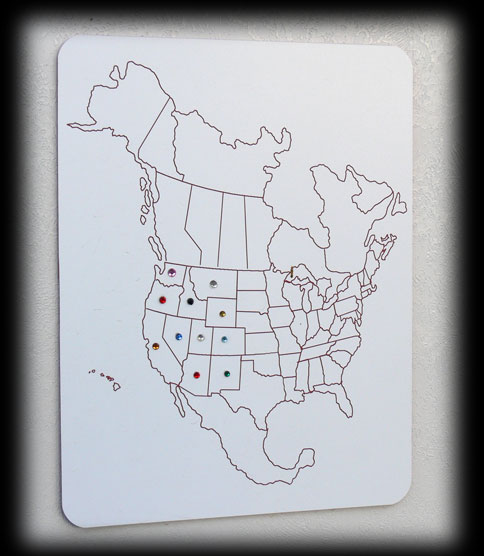 Strap on mirrors
We first saw these on our friends Mimi and Jonna's Lazy Daze (which they've named Tortuga). The mirrors are from Camping World and they simply strap onto the existing rear view mirrors. What makes these very nice is that they're relatively inexpensive (about $15.00 per) and they allow you to see the top corners of your rig. With these, we're pretty much able to avoid those nasty tree limbs and overhangs.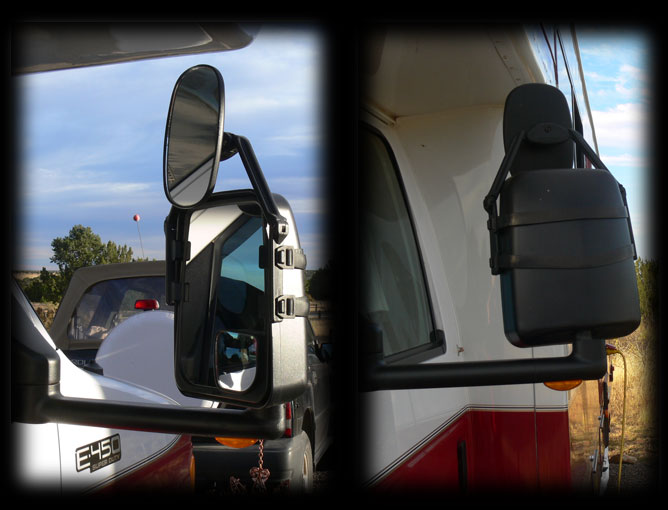 Lighting Our Internet Satellite
As you may have guessed by now, I like different lights a lot! After we got the satellite dish, I knew that I wanted some kind of light for the dish at night. We use solar lights for around the legs of the tripods (so people don't trip), but it seemed to me that the whole set up would just be better if that big old dish was lit up at night!
So I went to my friend Andy, who is highly supportive of these ideas of mine (While I'm long on big ideas and enthusiasm, Andy can usually figure out how to put them together, a talent I completely lack.
Our first effort (Version 1.) actually used one small led and a set of batteries. While this worked (and was pretty exciting for a first attempt) it really wasn't what I had in mind.
For the second attempt (Version 2), we took apart a string of solar lights I had bought. I got the job of stripping out the bulbs while Andy figured out what we needed to do next. He figured out that a dental floss container would be a good container. Next we drilled out twelve holes in the bottom and Andy carefully inserted the leds, and soldered each of them in place. We then filled the container with epoxy so it would be waterproof and attached it to the solar collector included with the original strand of lights. Lo and behold, it works pretty well, and we still sometimes use it, but mostly we use Version 3!
For the third attempt, Andy (who was really into this whole thing by this time) found a 20 light color changing LED bulb that he was sure we could make work. Well, it was just perfect, except it did require power. And in case you ever wondered, yes you could smuggle people in the pass through of a 30 foot Lazy daze, as we learned when Andy installed a 12 volt outlet in our spare tire cover.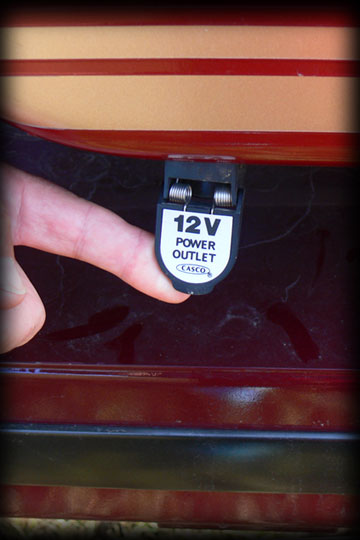 After installing the outlet, we got a 12volt extension cord and tested the light. Well it is darn near the best thing since sliced bread! While this picture doesn't really show it off, we now have a mini light show on our dish, with colors ranging from red to blue to green to lavender. It's pretty swell!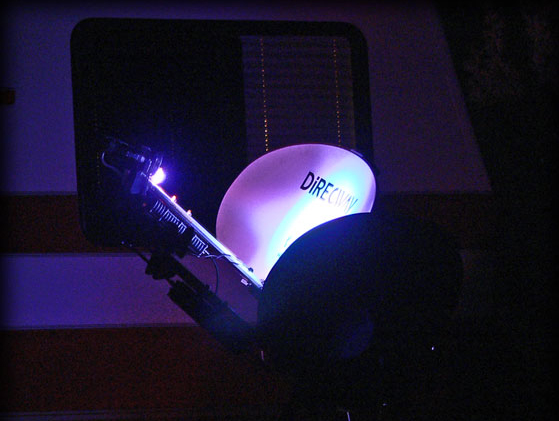 LED Brake Lights
A lot of folks in Lazy Daze have installed led (light emitting diode) backup lights. After seeing them on several rigs, we decided he extra brightness was a good thing. A fellow named Terry Tanner runs a Yahoo group called TechSnoz, with wonderfully detailed instructions on how to make various modifications to your rig.
We got all the parts together and headed to our friend Larry Wade for installation. He did a super job, and we have been quite pleased with the results. This picture shows the installation, but they are much brighter than they appear in these photos.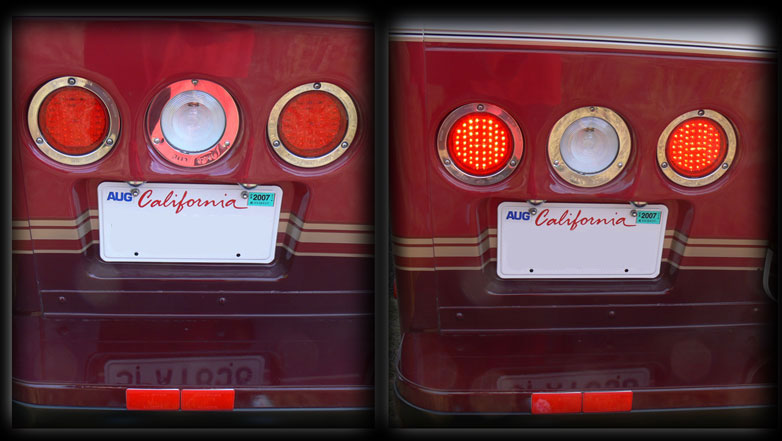 Insulating our Valves
While staying up at Santa Rosa Lake last Thanksgiving, we were stuck in a snow storm. While it wasn't a really bad one, we did get concerned that our valves might freeze. Although ours never did freeze, our friends Mimi and Jonna's tanks and valves froze, so we got to thinking . . .
We found a a strip heater (similar to one you would use in a raised flower bed), 120v, and figured that might just do the trick. The heater is thermostatically controlled and comes on at thirty four degrees, perfect to protect from freezing. We wrapped it around the pipes leading to the dump valves, going all the way to the valve itself (we didn't do the tanks, we won't be in cold weather long enough for those to freeze). Then we wrapped the whole thing with insulating foam tape.
Now, when we are in an area where a freeze is imminent, we simply plug these in to a power pole (when it's that cold, we usually try for hook ups). So far. we've been through several snows and they've worked great.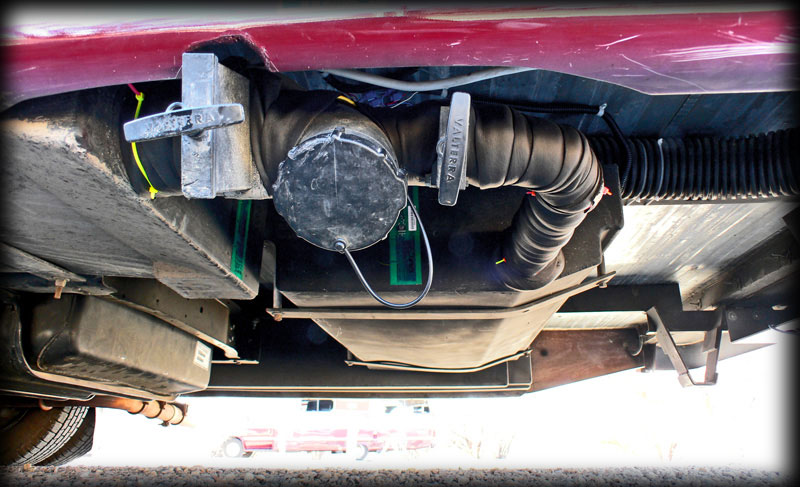 How We Filter our Water
Having once gotten REALLY bad water in a previous motorhome, we decided that in Cholula Red, we would always filter our water. The question was, how? At first we used the blue filters that you buy at Camping World, but it seemed that they always leaked. Also, I hated that they seemed so wasteful, I mean the whole thing throws away!
We saw a similar setup to what we finally decided on in our friends Mimi and Jonna's rig, and this is what we now have.
We went to Home Depot and purchased a full house water filter. Then we went into the garden center and bought regular hose fittings to place on each side of the filter. Then we bought regular GE SmartWater sediment filters. This whole set up, including 3 filters cost us under $40.00. Then we bought a plastic container, and cut a star shaped hole in the lid so that the filter would stand up and be supported. We also keep our hoses and other water fittings in this plastic container, and the whole thing fits in a bin, pretty slick!
We use this every time we put water in the rig, and after more than a year we are still under $40.00 for our exterior water filter, which we consider quite reasonable (and we still have one replacement cartridge left).
While this works for protecting our tanks and pump from grit and such, for our actual drinking water, we have installed a NaturePure Water Filter . No matter where we've camped, even when others are complaining about the taste of their water, ours has always tasted good.
I can whole heartedly recommend both these setups, they work great.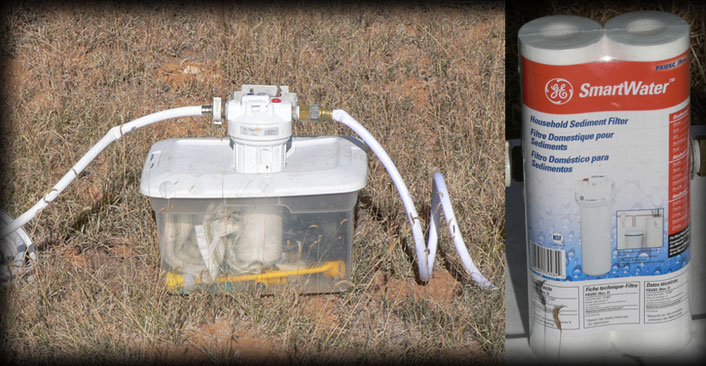 This Website was created on a Mac by Kate Klein