<

A Bit About Us & How We came to Get Cholula Red, the 2005 30ft Twin Bed Lazy Daze . . .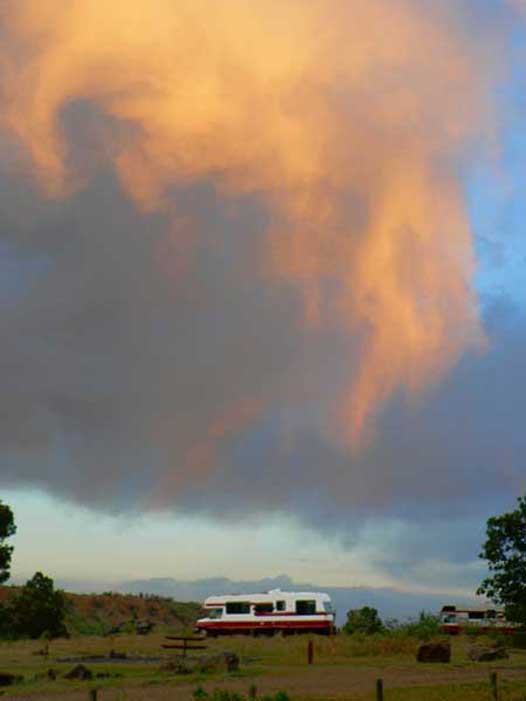 For some time now, I've been wanting to do a page about our motorhome, but first, a bit of history . . .
We are Kate and Terry, a happy couple who have been together for 36 years. We are both retired from the United States Postal Service and are in the midst of trying to decide if or when we can go full time in our motorhome.
We got our first motorhome some twenty plus years ago, a 1973 Chinook, about 19 feet long. We purchased it from my parents and were we ever thrilled! At the time, we were both working so our trips were limited to weekends and the occasional week on the road. Looking back, I have to laugh, because, were we ever green!!!
Our first trip out, we knew nothing, and to us, self contained meant clothes, dishes and food and we were good to go, right? There we were, heading up to Kings Canyon for our first night in our very own little motorhome. Unfortunately the climb was a bit much for the rig and when we finally got to the pay station at the entrance, she died! So with a long line of cars behind us, we had our first disaster . . .
After being pushed to the side of the pay station (how humiliating) and waiting an hour or so, it started right up and we went out for our first night. This was a recurring problem that would plague us for a year or so till we met up with an old timer who knew exactly what our problem was, something to do with no shielding around the starter. When it would get hot, it would just refuse to go. After a simple heat shield install, the problem disappeared). But for now, here we were, already broken down and not a tool in the rig!
This was the start of our first motorhome list and it seems like we've been making them ever since.
We kept the Chinook running for the next five years or so and it died a slow death, so we were without a motorhome for a number of years.
Then, several years ago a friend was selling her motorhome and we decided to take a look. It was a 1988 Tioga, 26 feet long with twin beds in the rear. At first, we really didn't even consider it because we didn't like the idea of twin beds; however after careful consideration, we decided it might be just the thing to get us back into motorhoming.
We took it out a few times and decided that we were probably going to get back into RVing once we retired (Terry was already retired at this point and I was within a year of retiring). We spent most of our time going to a local state park, Seacliff Beach in Santa Cruz County.
We were at the point where we had decided that we wanted to go ahead with the idea of trying fulltiming at some future date. With this in mind, we started trying to decide what we would want in a new rig. We had actually decided that we liked the twin beds, since they made a small rig seem so much larger. We also decided that we wanted more windows, no dinette if possible and we really wanted a set of cabinets in the cab over portion instead of a cab over bed.
Then one weekend, while camping at Seacliff a silver Lazy Daze pulled into the campground. I was immediately intrigued and hot footed it over to beg for a tour.
And the rest is pretty much history.
It turned out that the rig belonged to a lady named Lorna who has since become a friend. I walked in and boy, was I excited. This model was a 26 foot Rear Bath with an entertainment center and it had just about everything I ever wanted in a motorhome. I loved the large windows, the vinyl at the entrance, the light wood and just about everything I saw.
So that was when the big search began. I came home and found the Life With A Lazy Daze RV group on Yahoo, where I'm sure I annoyed SO many people with all my questions (my apologies for Impatiently Waiting . . .). Over the course of a couple of months I absorbed every bit of information I could, and finally, after long discussions, Terry and I decided that it was definitely a Lazy Daze that we wanted.
So now we had to decide which one would we get? We wre pretty sold on the 26 foot, but the layout was still in question. And should we buy new or used? Finally, we decided to visit the Lazy Daze Factory .
When we walked on to the showroomfloor, the first rig we walked in to was the 30 Foot Island Bed. Boy were we impressed with all that open space in the living room! While we loved the living room, we knew that we did not want the island bed. Our time in the Tioga had convinced us that our next rig would be a twin bed. We asked lots of questions and went off to ponder our decision.
Finally, we decided that the best way to make an informed choice was to go to a Lazy Daze Caravan Club outing and see the various rigs, as people were living in them. While we knew we couldn't "officially" attend the event, we decided to just go to the same campground where one was being held and, hopefully, people would be kind enough to let us visit their rigs.
And that's exactly what these lovely people did! We had the opportunity to tour every floorplan, except the one we REALLY wanted to see, the 30 foot twin bed. Even though we didn't get to see the 30TB, we saw enough to realize that the 30 footer would be the one we would buy.
After looking around, we realized that if we bought used, we would have to purchase at least a 2003, since that was the year Lazy Daze started with the lighter wood interior that we liked so much, as well as the year they started using thermal pane windows (as opposed to dual pane windows, which were in use prior to 2003). After exploring a bit more, we decided that we really wanted to have the Tow/Haul feature that Ford was introducing in 2005, so it seemed that our decision was made.
We knew that purchasing a 30TB would be a bit of a gamble, since we had never seen one in person. At the Lazy Daze Factory, they have every floor plan available to tour, except the 30TB, so we were going a bit on faith, but according to the flooorplans they have online, it certainly seemed that this was the floor plan for us. Besides the twin beds, we also really liked the windows in the 30TB. If you take a look at the floor plan below, you'll see what appealed to us (the windows are all marked in red).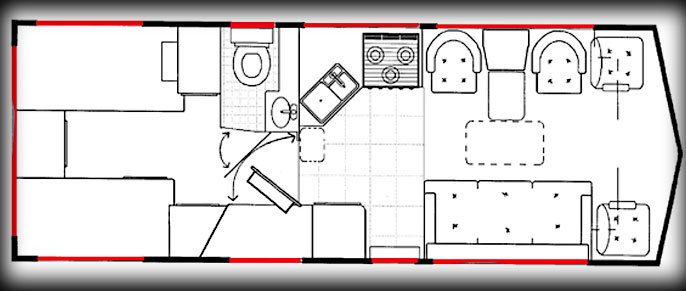 So on April 28, 2005, we went to the factory and placed our order. Since the 30 foot Lazy Daze comes with many of the options we already wanted (entertainment center. electric step, one 100w solar panel with an HPV22 controller, a larger air conditioner), it meant the extras we had to order were much less than they would have been had we decided on a 26 foot model.
That said, we ordered a 30TB with three extra 120v outlets, an extra 12v outlet, a backup camera, Bilstein Shock Absorbers, a faux hardwood dash, a T connector under the sink for a future water purifier install,faux leather seats, a manual satellite, electric heated mirrors and a second solar panel. We also had the factory reinforce and install a handicap bar at the entrance (Thanks to Steve S, also known a Lazy Bones on the Yahoo board), cables so I could play my iPod through the dash radio, a GPS antenna, and wiring for a future satellite internet setup.
So the deed was done and all we had to do was wait (till August 23, 2005 a total of 116 days)
And I have to tell you it is one of the best decisions we've ever made.
On the following pages, you'll see some of the improvements we've made to the rig, as well as some of the tips we've learned that I thought you might enjoy seeing.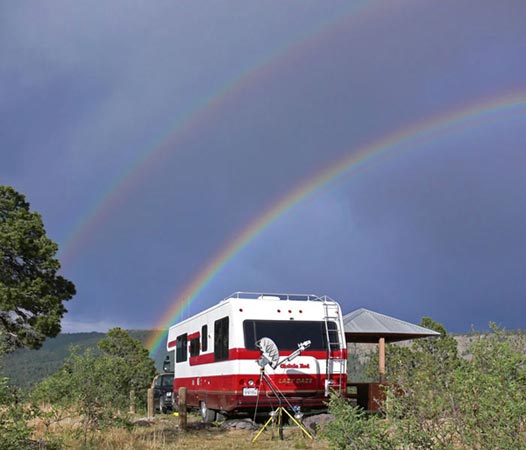 As I will say over and over again, Life is good.
This Website was created on a Mac by Kate Klein